If there can be a bright side to the slumping economy due to the COVID-19 pandemic, it's that 30-year mortgage loan interest rates are at an all-time low. In response to the pandemic, the Federal Reserve has taken two actions -- lowered the Fed Funds interest rate to historic lows and started a program to buy mortgage-backed securities. So, during this negative time in our history, you may want to explore how low interest rates might benefit you.
Remember, you'll want to move quickly because we don't know how long this record low-interest rate condition will last. Below is a chart showing Freddie Mac Primary Mortgage Market rates since the 1970's for 30-year fixed mortgage loans.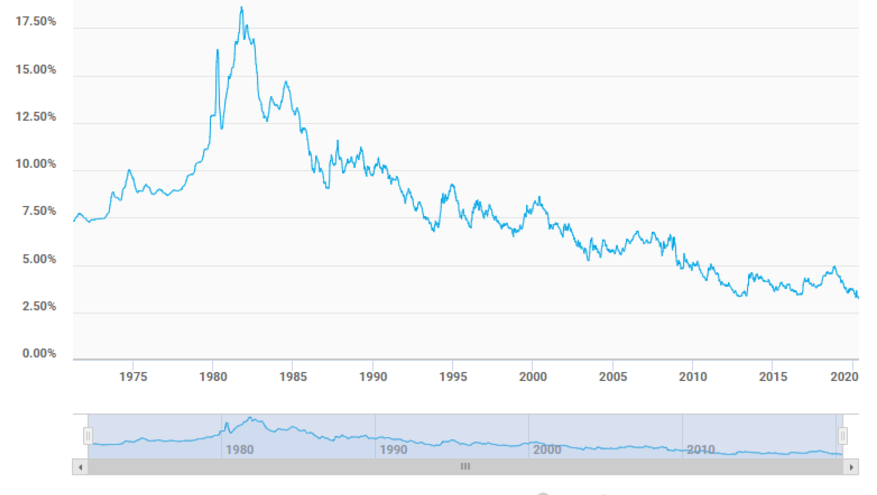 *Freddie Mac. 2020. Primary Mortgage Market Survey (R) [Accessed 2020 May 15]; http://www.freddiemac.com/pmms/
There are several opportunities to take advantage of these exceptionally low interest rates:
Home Buying
If you're considering buying a home, you may want to act now while the mortgage rate is at an all-time low. Historically, real estate has been a good investment, so those interested in an investment property may want to consider investing in new property now.
Refinancing
According to bankrate.com, approximately 11 million homeowners could reduce their mortgage payment with a refinance, due to the current low interest rates. If you think you're one of those people, it could be financially responsible and a real a personal financial benefit to investigate refinancing the loan on your home.
Mortgage rates are market-driven and can change at any time during the day! It's a live market that can change quickly, so don't wait to make your move. Give a trusted Bank of Utah mortgage loan adviser a call today. It will only take 15 to 20 minutes for them to review your financial and personal goals, your debt and the current mortgage rate on your home, and then recommend what makes sense for you. Bank of Utah will find the right loan for you and lock in these all-time low rates.
Give your loan officer a call or to find one, visit https://www.bankofutah.com/find-a/mortgage-loan-officer. Use this current low mortgage interest rate window during the COVID-19 pandemic to your advantage.