Speak with one of our friendly customer service specialists Monday - Friday, 7:00am - 6:00pm. Outside of these hours, follow the prompts from our helpful automated system or leave us a message, and we'll get back to you within one business day.
801-409-5000 - Customer Service
Option 1: Debit Cards
Option 2: Online Banking Support/Wires
Option 3: Existing Personal Loans
For general customer service, remain on the line.
We Want to Hear From You
Hear back from us in about one business day.
Contact the President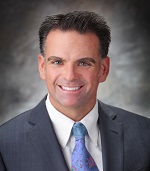 President Branden Hansen makes it a priority to hear from our customers.
Contact the President