I love springtime in Utah. The grass is green. The skies, blue. The air, fresh. These beautiful, warm days make me open the curtains, let the sunshine in and — notice all the dust particles that have settled in normally hidden little spots under the couch, on the baseboards and in corners! The sun, while glorious, sure spotlights those areas of your house that need a little extra cleaning attention! So I added a few more bottles of dust spray and floor polish to the growing list of items I needed to buy to get my spring chores done.
With all of the extra cleaning and subsequent extra purchases, it made me think: Spring isn't just a time for household chores, it's also a time for a financial refresh — a time to rid myself of clutter in my closet AND reassess the categories in my budget, to take down winter clothes AND take an inventory of my bank accounts, to dust those bunnies away AND declutter my bank statements.
You're probably well aware of the household tasks you want to accomplish this spring — I know I'm tackling that dust under the couch first! If you're ready to start tidying up your finances, too, these five steps will get you off to a good start.
5 Ways to Spring Clean Your Finances
1. Dust off your budget!
If you haven't looked at your budget for a while, pull it up (and if you don't have a budget, now is a great time to start one). Review and update your financial goals. Look at the categories within your budget and see if you need to adjust the amounts up or down, or even add new categories or subcategories. Our lives change and evolve, so it's natural that your expenses will also change and evolve. Make sure your budget reflects your life right now.
As a Bank of Utah customer, you can find tools within online banking to create a budget, monitor spending and identify trends. These are easy to use, which means you can look at and update your finances on a regular basis, so the dust doesn't build up!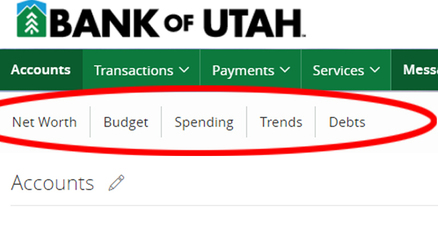 2. Sweep away spending habits that are keeping you from your financial goals.
If you're struggling to balance your budget every month, look for areas where you can trim your spending. It's helpful to sit down and separate out your needs and wants. Categorize all of your expenses and look to see where you might be overspending. If you've been spending too much money in one category — entertainment, for example — make a change. Then, you can put the extra money toward an area of your budget that needs it, such as groceries.
As always, if you have money left over, put it in a savings account. If you're able to set aside just $20 a week, at the end of the year you'll have saved over $1,000! Take advantage of online banking, and set up automatic payments to your savings account. After an initial set up, it's hands off. That means you don't have to remember to move money over, and the money is saved before you have time to spend it on unnecessary purchases.
As you sweep away unproductive spending habits and start saving, you can begin to put long-term financial goals in place.
3. Properly dispose of debts.
Once you've dusted off your budget and thrown out those ineffective spending habits, sit down and create a debt payment plan. Make a list of all your debts, including the minimum payment, interest rate and how much you owe for each. Decide on a strategy for how you'll pay them off — if you need help, reach out to the Bank. We can help you get started, and we can show you tools to track your progress.
You might even think about consolidating your debt. Some credit cards, Bank of Utah credit cards included, offer an introductory 0% annual percentage rate (APR) on balance transfers. That means you can transfer some of your debts to the card, and you won't have to pay interest on your balance for a limited number of billing cycles. Be careful and strategic about it, though — always remember to pay off your balance before the introductory period ends!
With debt tossed out, you have more financial security, more options to spend and save, far less stress, and an improved credit score (which leads me to number 4)!
4. Make sure your credit report is clean.
Fraud has been on the rise for a while now. The last thing you want or need is a scammer staining your credit!
Check your credit score once a year. It's free and easy — simply visit AnnualCreditReport.com to get yours. It's better to know sooner rather than later if there's a problem, so you can dispute and resolve it before you go to apply for a credit card, loan or mortgage.
5. Organize your financial documents.
It wouldn't be spring cleaning without a decluttering chore. One simple way to reduce the amount of paperwork you have in your files is to switch to eStatements. Beyond helping you get organized, eStatements can help you save time — no more scouring through folders of paperwork to find the statement you need!
As a Bank of Utah customer, you can access your eStatements in online banking, where they're easily searchable. You'll also benefit from our eStatement Promise, which guarantees that your account statements will be on file electronically for seven years (and also gives you the ability to request electronic copies with no associated fees — even if you close your account).
And just think — fewer paper items means less clutter to clean up every spring!
The Benefits of Financial Spring Cleaning
Spring cleaning is hard work, isn't it? It takes time. Rarely ever do you get your entire list done in a day — it takes weeks sometimes. But when you check that last chore off, it feels really good.
It's the same for financial spring cleaning. Making a budget, changing your habits, getting organized — these things take time, but it's all worth it when you've got a healthy budget, one that you can easily manage and one you can use to jumpstart your financial goals!
If you ever need any help getting on track financially, we're here to help — spring, summer, winter or fall!
---
Sherri Webb is the branch manager for Bank of Utah's South Ogden location. She has worked at the Bank for 30 years, and enjoys volunteering with Catholic Community Services' Bridging the Gap program and Junior Achievement of Utah.