What's New in Online and Mobile Banking?
Whether it is an active lifestyle during healthy times, or social distancing to keep our communities safe and strong, Bank of Utah's online and mobile banking is always here to give you a secure and simple way to manage your money. And, as digital capabilities evolve, we're continually looking to update and grow online and mobile banking to give you more tools and more ease of use for greater control. Let's take a look at what is new and what is next for Bank of Utah's online/mobile banking for personal accounts.
What's New for Personal Accounts?
Mobile Makeover and Quick Links in App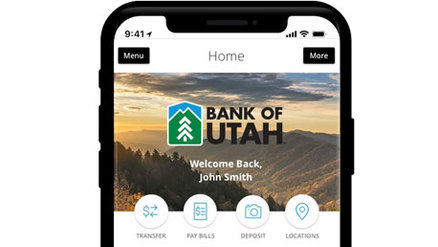 On April 21th mobile banking is getting a makeover. With that, you'll find the four most used features right up front with quick links. No need to navigate through the menu when you want to transfer funds between accounts, pay bills, mobile deposit a check or find an ATM.
Don't worry, all of the other features and functions are still included. Scroll past quick links to see summaries of all of your accounts and access financial tools including budget tracker and spending summary. Through the menu at the top left you'll find all other transaction features, services, messages, settings and help.
CardSwap
Have you signed up for CardSwap yet? CardSwap helps you simplify management of your favorite online subscriptions by letting you update payment methods through a single portal. Connect your favorite digital services and retailers like Amazon, Netflix and iTunes to Cardswap, include your Bank of Utah debit or credit card information, and all of your payment information is automatically updated across the board. This takes the tedious work out of updating card information individually across your online subscriptions when you get a new debit/credit card.
Learn more here (https://www.bankofutah.com/personal/services-benefits/card-swap) or sign up for CardSwap in the Transactions section of online banking.
Updated Bill Pay
Bill Pay also got a recent refresh making it easier to add vendors, set up reoccurring payments, pay invoices and link to eligible eBills so you never miss a payment. Bill Pay is a great way to save time, save money on postage, and guard from identity theft by not putting a check in unsecured mail.
What's Next for Personal Accounts?
More Payment Options
We're not stopping there. In the coming months we'll be adding additional payment options. First, we know that sometimes payment due dates can sneak up on you, and traditional Bill Pay requires a day or two to process and transfer funds. Pay Today will give you the option to get payment to the biller on the same day you submit it for processing. No stress in those emergency situations. You will also be able to add multiple billers to Pay Today and the calendar dashboard will show you when payments are coming due, making it easy to plan ahead.
What if you need to pay a person and not a company? Later this summer, we'll also be adding Zelle. Zelle is the secure, fast and free way to transfer money straight to their account. Whether you need to pay your brother for buying movie tickets, pay your friend back for your half of the dinner tab, or pay your child's piano teacher, Zelle puts the people-to-people power of payment in your phone.
Open a New Account Online
We know you have a choice of where you bank, and we're glad you are here. We also know there is a choice in how you bank, and we want to put the power of how to work with us in your hands. Also coming this summer, you will be able to add a new Bank of Utah personal account through a simple digital process. This new account opening capability will be a short and sweet way to make sure your money is working how you want. Of course our friendly expert Account Managers are here when you want to do that process together, but if you know what you need, this new tool will provide an easy way to add an account.
Internet Explorer Changes for Online Banking Access
Finally, as we enter fall in October, you will not be able to access online banking using an Internet Explorer browser. This is a security measure to keep your online information safe. Microsoft no longer updates Internet Explorer, and as such, it no longer meets current security standards. Instead of logging into online banking from Internet Explorer, use another browser like Chrome, Edge, Firefox, Safari, or download the Bank of Utah mobile app to your phone or tablet. While this won't be fully disabled until October, we do recommend you making the switch sooner, if possible.
We're excited for the new features we're adding and will be adding that give you more control, more security and more confidence in how your money is working. These are all in addition to the existing lineup of digital resources Bank of Utah provides customers. If you need a quick refresher, visit https://www.bankofutah.com/personal/services-benefits. Questions? Give us a call or come in. We're here for you digitally, via phone or in our branches. That part will never change.