Bank of Utah celebrated the grand opening of its new full-service branch in St. George, Thursday, Sept. 30. The branch is located at 335 E. St George Blvd, Suite #103, just east of the bank's award-winning St. George Home Loan team.
"We're excited to open a new branch in beautiful St. George that will be in addition to our current mortgage operation. We look forward to serving the personal and business banking needs of the community with our expert customer service and superior financial products." – Douglas L. DeFries, Bank of Utah President
Key members of the bank branch team include 20-year commercial lending veteran H. Bradley Stucki who will serve as the branch team lead. Tanner Olsen will serve as credit analyst, Joanie Michel as the branch deposit manager, and Tevica Schneider as customer service manager.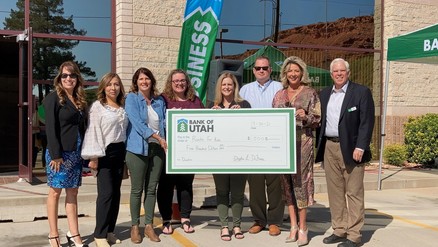 As part of the event, Bank of Utah made a donation in support of Root For Kids, an organization that offers high-quality childcare and other programs for families in the St. George community.
---
Services Available in Our New Branch