OGDEN, Utah, May 1, 2022 – Bank of Utah turns 70 this year and is celebrating continued connections with the communities it serves and milestone innovations. The bank was founded in 1952 in Ogden as a friendly, innovative, available-to-all bank, with 16 dedicated employees. Today, Bank of Utah has grown to one of the strongest banks in the U.S., with 21 locations across Utah and over 400 employees who still carry on the time-honored tradition of helping families and businesses grow stronger financially.
Throughout May, the bank will be hosting an era quiz featuring Bank of Utah history and 1950s trivia. Everyone who takes the quiz and scores a 90 percent or higher will be entered into a drawing for a Megaplex movie pass. Winners will be announced at the end of May. Branches will also be giving away treats to customers every Friday in May.
"We are very excited to celebrate this milestone anniversary with our customers and communities," said Douglas L. DeFries, president and CEO of Bank of Utah. "Over the years, the bank has worked diligently to become a financial pillar for the people of Utah. We go into our 70th year strong, devoted to our longstanding tradition of helping local families, businesses and communities thrive. Our promise for the next 70 years is to bring Utahns that same mix of customer-centric service and innovation we've provided from day one."
In honor of Bank of Utah's 70th anniversary, below are some historical details, community-oriented highlights, financial figures and a few fun facts about the financial institution.


Giving Communities and Customers a Different Kind of Bank
Bank of Utah bears the mark of its founding president, Frank Milton Browning, who owned two automobile dealerships in Ogden before going into banking. Prior to opening Bank of Utah, Browning went door to door and farm to farm asking neighbors what they needed from a financial institution. During a time when a strictly regulated, impersonal environment defined banking practices, Browning ultimately proposed a personal, accessible style of business. Spacious lounges and welcoming fireplaces greeted early customers, and open teller windows and workspaces allowed customers and employees to interact easily.
Today, that customer-centered focus remains a hallmark of Bank of Utah.


Connecting With Neighbors and Communities
From the get-go, Bank of Utah was committed to improving the quality of life in the communities it served. While providing banking services was important, the Bank's commitment to community extended beyond financial products. In the early years, that meant exhibiting flower displays, coin collections and other hobbies in the bank lobby, and sponsoring local endeavors such as 4H Club and Dairy Day events.
Today, Bank of Utah continues to champion local communities from hosting one of Utah's largest clothing drives, the Warm Bodies, Warm Souls event, to partnering with the Boy Scouts of America for "Scouting for Food," to hosting community events, to volunteering for service projects, to serving on the boards of more than 85 Utah organizations.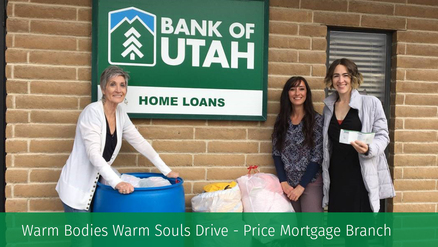 Innovating
Bank of Utah has always had a penchant for offering new banking services and banking improvements for their customers. The bank was one of the first financial institutions to offer drive-up windows in Utah and was Ogden's first complete "Motor Bank," where customers could make deposits, cash checks and even secure a loan from their cars.
Today, Bank of Utah continues to offer modern services and products. In 2020, for example, the bank announced the launch of a new advanced digital account opening platform. The platform allows customers to open the bank's Easy Checking account, Evergreen account, I Save account and CDs online in five minutes or less from their mobile phones, tablets or desktops. Bank of Utah was the first community bank in the Utah market to partner with the esteemed banking technology company MANTL for online account opening, to offer best-in-class online experiences for customers.


Working to be Financially Strong
In its first year, Bank of Utah announced it had exceeded its goals, with $6 million in assets (a feat in the 1950s, when $2 million was considered a lofty aspiration). By the end of 1953 — one year after opening — the Bank had become the 11th largest bank in Utah and had surpassed 939 other banks in the country in size.
Today, the bank reports assets totaling $2.2 billion and now ranks in the top 11 percent of banks in the nation for total assets and the top 10 percent for net income.


Remembering a Few Fun Facts
Over the years, Bank of Utah has been honored to organize its business around customers and communities and has had fun along the way.
In the early years, branches featured built-in birdcages, much to the delight of customers, customers' children and employees (until they forgot to shut the cage one evening and were greeted by birds flying in the lobby the next morning).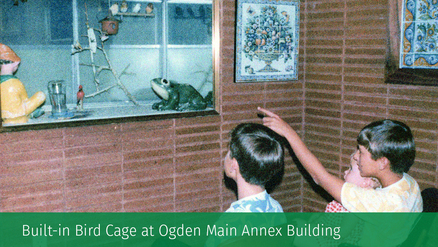 Bank of Utah's Ben Lomond branch was originally a church; the evidence of a baptistery can still be seen downstairs. The location is also thought to be haunted. Branch managers throughout history have noted — and been a bit frightened by — books flying off shelves, footsteps being heard in empty lobbies and lights being turned on in the middle of the night.
Bank of Utah remains majority-owned by the Browning Family. Frank W. Browning is the current chairman of the board. Frank has held nearly every position at the bank. From a teller to an electrician who got inside the walls to install wiring, he knows the bank inside and out.
For a long time, the bank's Tremonton branch was known as the "wedding registry place for Tremonton." Engagement announcements were posted on the bank marquee.
The holidays have always been filled with community events, from participating in the Gingerbread Open House and helping children get special letters from St. Nick postmarked from Santa Claus, Indiana, in the 1950s to displaying a miniature version of Ogden Main in the annual Ogden Christmas Village (which received the fan-favorite award in 2021).


Ending on a Grateful Note
"It is an honor that, for so many years, so many of our neighbors and local businesses have put their trust in us," said DeFries. "We'll continue providing the best service and the best products, and we'll continue to listen to the needs of the communities we serve because, 'Together, we are Utah.'"