To say Utah homes are selling quickly is an understatement. According to UtahRealEstate.com's housing market statistics, homes stayed on the market about five days in May 2021, down from 12 in 2020 and 18 in 2019. Some are going even faster right now, getting offers the same day they're listed.
If you're a homebuyer, this can be incredibly frustrating and discouraging. I'll let you know what to expect and give you some tips on how to prepare for buying in a seller's market, but first let's talk about how Utah's housing market got here.
The quick, simple answer is demand for homes is up while the inventory of homes is down. When demand is high and supply is low, it creates a seller's market, and right now in Utah, it's an extreme seller's market. Bidding wars are common, prices are escalating rapidly and homes are being snatched off the market quickly.
Why is Utah's Housing Market So Hot? A Growing Population.
Utah has a strong economy, job market and an abundance of recreational opportunities, which explains why people want to move here, and why locals stay here. Economic forecasters predict a steady population growth through at least 2025. The below chart reflects those numbers, as forecasted by the Utah Population Estimates Committee.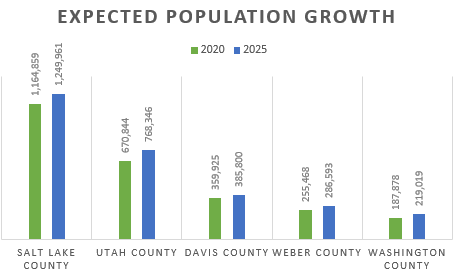 The committee released these estimates pre-COVID-19, but then the pandemic added a new dynamic. It changed where and how Americans live and work. During Bank of Utah's economic forecast event in the spring of 2021, real estate broker Jon Walter explained it this way: "People are starting to think, 'Where do I want to live?' They may say, 'I want to keep my San Francisco job and salary, but I want to live in Beaver, Utah, where I like to recreate,' and they'll be able to do that (because more employers are now open to remote work)."
Also, according to a research paper titled "The Mortgage Market in the Time of COVID," the pandemic in 2020 "brought additional strain to the financial system, but the housing and mortgage markets held up very well."
All of this means that if you're looking to buy a home right now, you're definitely not alone, which means you could encounter a few hurdles.
Being a Buyer in a Seller's Market: Expect These 3 Things
As a mortgage loan officer, I have listened empathetically to many would-be buyers, especially young people just starting out, who began their journey to purchase a home excited for the future, only to feel defeated once they realize how pricy homes are and how the current market has shifted. Know what to expect, to safeguard yourself financially and emotionally.
1. Expect competition.
We've talked about population growth, so you know you're competing with a high number of other homebuyers, but what I haven't mentioned yet is that interest rates are historically low. That is motivating even more people to purchase now.
Make sure you have your pre-qualification letter ready. When sellers receive multiple bids, pre-qualified offers can stand out, indicating you're ready to buy and you're serious about the deal.
2. Expect higher prices.
Because sellers know homes are in demand, they have leverage. If they set their price high, it's a safe bet there will be enough people interested to get their asking price and possibly more.
Stick to your budget. It's easy in all of the excitement of looking for a home to be tempted to bid higher, especially when you find something you really like. Know when to walk away.
3. Expect homes to go fast.
Like I mentioned earlier, homes are only on the market for about five days.
Remain open to other options. Broaden your search if you can. Look at a different neighborhood, or a different city if you can. Instead of buying a brand-new house, maybe consider one that needs some remodeling. If you were intent on a two-story, maybe look at a few other styles. You have to have parameters, of course, but don't limit yourself too much.
Keep 3 Financial Best Practices in Mind
Now that you know what to expect, you should have a contingency plan in place.
Even if you have the best financial circumstances, the reality is you still might come up short. Someone else may offer more than you. Every house you want to look at may be under contract already. A bidding war may ensue. Someone else may be able to put more cash down upfront.
This is when you need to be patient and think long term. Don't do anything to negatively impact your financial goals. That may mean that, as much as you want a house, you might have to wait. You may need to stay in your rental home or apartment longer, or perhaps even stay with a relative for a time.
Don't give up on your dream of owning a home, though. While you wait, you can do three things to better prepare financially.
1. Save for a down payment.
Bank of Utah has a number of savings options that can help you boost the amount of money you can eventually put toward a home. We do have options for lower or no down payment; however, the more money you put in as a down payment, the lower the monthly payment will be (on the same purchase price). In addition, having more earnest money, which can go toward your down payment, can help get your offer accepted.
What's important is to talk to a qualified mortgage loan officer who can give you all of your options in regard to a down payment.
2. Monitor your spending and your credit.
Be careful not to make any big purchases, especially on credit. This could affect your credit score, which could affect your ability to get a loan. Federal law entitles you to a free copy of your credit report every 12 months. Visit AnnualCreditReport.com to check yours and learn what you need to do to get a better score or maintain your score.
3. Stay in touch with the Bank.
We have services and products to support your financial and home ownership goals, of course, but above all, we have a dedicated group of people who want to help you, too. The more we get to know you, your goals and financial situation, the better we can give you answers and solutions to meet your needs.
Remember, being prepared for every home-buying scenario is best. Bank of Utah has experienced loan officers in branches across Utah. You can find us easily online. Reach out with any questions you have about the mortgage and home-buying process or just to chat about the mortgage market. You can even start with the basics – how do I open a checking or savings account – to begin building up financially toward your home goals.
As the housing market continues to remain hot, you may feel like many things are out of your control as a buyer. This is something even national policymakers are looking to address in the future. For now, though, I have one last piece of advice: Don't get discouraged. The right time, and the right home, will come for you. And when it does, we'll be there to help.
---
Rick Northcott is a mortgage loan officer with Bank of Utah. He works out of the Lindon Branch and enjoys helping future homeowners successfully navigate the mortgage loan experience.