Have you ever wondered how many decisions you make on a daily basis?
I recently read a statistic online that said adults make about 226 decisions a day — just based on food. (I know you can't believe everything you read on the Internet, but this figure comes from an older, but credible 2007 Cornell University research project. So, I decided to believe it.) If you throw in work, family and life decisions, the number skyrockets.
No wonder it's hard to focus sometimes.
Now imagine being a homebuyer and all of the additional decisions you have to make. Do you want a condo or single-family home, a move-in ready house or a fixer-upper, a one- or two-story, a big or small yard? How much are you going to use as a down payment? Do you get a 15- or 30-year mortgage?
Once you've made all the big decisions, finally found a home, had your offer accepted and applied for your mortgage, you want the stress behind you. Getting a mortgage requires a number of steps, though. To help with the overwhelmed feelings that might linger as you advance through the process, it's good to know what to expect ahead of time.
The more you know beforehand, the less stressed your home-financing experience will be.
A 6-Step Guide to What Happens After You Submit Your Mortgage Application
1. Documentation gathering
Some of this will be your responsibility as the borrower, including:
Tax transcripts

Lenders typically want to see one to two years of personal tax returns, to ensure your annual income is consistent.

Verification of employment

Based on the employment information you provide, your lender will usually contact your employer directly to confirm your job. If you're self-employed, your lender may obtain your business tax return transcripts from the IRS.

Insurance

Your lender may ask for a letter from the insurer or a copy of the insurance policy, to make sure your home — your investment — is protected in the event it is damaged.
Some of the documents will be requested by your lender on your behalf, including:
Appraisal

A home appraisal is an estimate of what the home is worth. Your mortgage lender will order, or arrange for, a third-party appraiser to provide an official, independent estimate of the home's value. The appraiser visits the property, takes pictures, does research on comparable home sales and creates a report for your lender. You will receive a copy of the report.

The appraisal shows you an accurate value of the home, so you know you're not overspending, and it plays a part in determining how much your lender will finance.

With Bank of Utah, this process usually takes 7 to 10 days.

Flood certification

A flood certification verifies that your home is not in a flood zone. It takes about 24 hours to obtain. Your lender will share the document with you.

If your home is deemed to be in a flood zone, you will need to purchase special flood insurance for your home, to protect your investment.

Lender's title insurance

Title insurance is a preventative measure that protects ownership rights — ensuring that no one can say they have a legal claim to your home. There are two types of title insurance, lender's and owner's insurance.

Most lenders require lender's insurance, to establish that the seller has the right to sell you the property and that you will hold a clear title after closing. An insurance policy is drafted to ensure this. Owner's insurance, on the other hand, is usually optional, and it protects you in the future, should someone come forward with a claim to your home.
2. Processing
This is the stage where your lender will organize and verify all of the documentation and paperwork mentioned above, to ensure the process goes smoothly and quickly.
3.Underwriting
Once the processor completes the document package, it goes to underwriting. In this stage, an underwriter reviews everything in detail, to ensure loan guidelines are being met. Currently, this process takes 24 and 48 hours at Bank of Utah, during which time your loan officer may come back to you with questions.
At times, you may need to meet one or two conditions before the loan is cleared to close. This could be anything from a clerical error on the appraisal to requiring a letter of explanation on a large deposit in your checking account. If there is a large, unusual deposit in your bank account, your lender may want to document how you obtained it, so they can adjust mortgage calculations if necessary.
You should respond as quickly as possible to ensure a fast underwriting process.
It's important to remember that your lender will review your financial credentials, including your credit report, multiple times throughout the financing process. Any significant changes to your credit report can disrupt your loan approval. That's why we advise you not to make any large purchases on credit when financing your home.
4.Preparing for closing
Once the underwriter has signed off, your lender will prepare the paperwork for closing and provide you with a closing disclosure. The federal government requires that lenders provide this to you at least 3 days before closing.
The disclosure outlines the details about your mortgage, including your loan terms, projected monthly payments and closing costs (any fees and expenses to secure the loan beyond your down payment, i.e., appraisal, title insurance fees, etc.). Your lender should review this with you, to make sure all of the figures are accurate.
5.Closing
At this stage, be prepared to sign a lot of paperwork! Your lender will either send your documents to a closing title company or meet you there to sign everything.
You will also receive wire instructions for paying closing costs. Sometimes, lenders will allow you to pay the closing costs beforehand, but I recommend waiting to get wire instructions directly from the title company before sending any money.
6.Funding and recording
It's your big day — when you get your keys! It usually happens the day after closing, but can sometimes happen the day of, depending on what works best for all parties involved.
Final Thoughts
As I mentioned earlier, the mortgage-financing process can feel overwhelming, especially when you already have decision fatigue from finding a home to buy. Being prepared in advance for all the steps you have to complete will make the financing process much smoother, and you'll have a more enjoyable experience. Buying a home should be exciting, too!
If there's one more decision I'd suggest you make, though, it's to reach out to a loan officer early in your home-purchasing process. We're easy to find and happy to walk you through, from beginning to end. I promise it's one decision — in many — that you won't regret!
---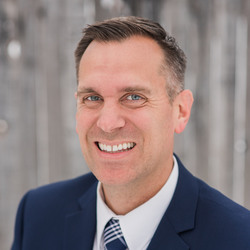 John Neil is a senior loan officer at Bank of Utah's Logan City Center Branch. He has worked with credit borrowers for 15+ years and has worked in his current role with Bank of Utah for almost 11 years. John loves the teaching part of his job and educating borrowers about the home-financing process.