It's summer, and fun festivities are in full swing across the state, from concerts in the park and outdoor movies, to farmers markets and art strolls, to rodeos and county fairs. I enjoy going to community events and connecting with new people. It's one of the reasons I became a community banker and commercial loan officer. My career has given me the opportunity to meet and build relationships with many of my neighbors, and I have enjoyed the various conversations over the years.
Communicating and sharing ideas is important in every relationship, whether it's with your neighbor or your neighborhood banker. What I've noticed as a lender is that new clients often tend to be anxious when first meeting with me. That's perfectly normal — approaching a banker to ask for a business loan can be daunting.
If you're a business owner seeking a loan, and you feel nervous about meeting with your loan officer, I have five tips to help you prepare, so you can feel more comfortable and increase your chances of securing a loan.
5 Tips to Prepare for a Meeting with Your Loan Officer
1. Be ready to share your business's story.
A go-to conversation starter for many loan officers — me included — is:
"Tell me about your business."
It's important for two reasons. One, it makes clients more comfortable to start out talking about something they care deeply about, and two, it gives loan officers an impression of the business beyond what's included in a loan application.
When sharing your story, include why you started the business, your experience, your mission and what sets your business apart. While not technically required, this information helps lenders get to know you and your business better, and this can help them help you choose the right loan.
Also, be sure to let your passion and commitment show. This demonstrates to lenders just how hard you'll be willing to work to make your business succeed.
2. Bring your business plan.
As lenders, our job is to evaluate your business, so we can be confident in the investment. Remember, banks use their depositors' money to fund loans. That's why we are very careful when choosing companies and individuals to finance. We have to make sure it's a good risk and will provide a strong return.
Your business plan should include different information than what you share in the "Tell me about your business" conversation. It provides an organized, well-thought-out explanation of your business objectives and goals, as well as your strategy for achieving growth and success.
This document not only provides important features about your business and your future; it also demonstrates that you, too, are careful and detail-oriented. Being able to discuss your products or services, your industry, and your plans to build success will help you stand out among the crowd of applicants.
The U.S. Small Business Administration (SBA) is a tremendous resource if you need help writing a business plan. You can research what to include and download sample plans at sba.gov.
3. Supply the right business and financial documents.
While your business plan — and your enthusiasm for it — is important, it alone won't qualify you for a business loan. We'll also want to review your business and financial documents. You should be prepared to provide:
Three years of business tax returns or prepared statements from an accountant
Balance sheets, income and cash flow statements to show your financial results over a period of time
Legally binding business documents, such as licenses or articles of incorporation
Personal financial documents, such as federal and state tax returns , that prove your income
Two full years of projections (if you have not been in business three full years or if you're planning to expand your business)
4. Make sure your personal credit score reflects positively on you.
You might be asking why your personal credit history would be a factor for a business loan and not just your business credit history. There are a number of reasons.
Your personal credit score is one of the most important measures of your overall financial health. Because it can indicate how likely you are to pay back a loan on time, your personal credit score can make a difference in your lenders' risk assessment of your business loan. It can affect whether or not you get approved for the loan, how much you get approved for, your interest rate and payment schedules.
Lenders will look at your personal credit history for a few additional reasons. If you're a small business owner, you may have used your personal bank account or credit card to help finance your business or a personal loan to fund some of your operating expenses. Also, if your business is relatively new, you may not have developed a comprehensive business credit history yet, so it's necessary to look at your personal credit to assess the risk of your business loan.
The exact credit requirements differ for lending organizations and types of loans, but you should have an idea of what your personal credit is so you can better discuss how it will influence your loan. You can request your free personal credit report at www.annualcreditreport.com.
5. List your collateral or show proof of a secondary source of cash flow.
Remember earlier when I said lenders need to be confident that your business is a good risk? Collateral provides an additional security measure. By pledging an asset when you take out a loan, lenders have a way of recovering their investment should your business not be able to repay the debt as promised. Depending on your business and personal financial circumstances, collateral can include:
Accounts receivable
Cash and deposits
Business equipment
Inventory
Real estate holdings
If you don't have, or want to pledge collateral, another strategy would be to show proof of a secondary source of cash flow, such as a co-borrower or guarantor.
Final Thoughts
Meeting with a lender to discuss a business loan often makes clients feel some measure of anxiety. Please know we are here to help you achieve your goals. Arriving with information to support your ideas and requests will also put you at ease. Remember, it's a conversation, and we're excited for you to tell us about your business!
If you have any questions about business loans or the process, please reach out to one of our loan officers.
---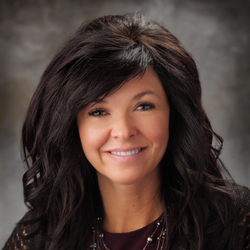 Krista Lewis is a senior vice president team leader for Bank of Utah and a commercial lender. She serves on the board of the Cache Valley Chamber of Commerce.