Have you ever heard the quote, "A diamond is a piece of coal that did well under pressure"? It's actually a myth — diamonds and coal have similarities, in that both are carbon-based and both are formed by immense heat and compression, but they are structurally different. The quote, however, still serves as an inspirational reminder that we can be positively shaped by adversity.
Pressure is something that business owners have felt in excess recently. From 2020 on, COVID has disrupted all facets of business, and owners have had to develop and use their unique leadership skills to survive. They have had to get creative, be flexible and promote change within their organizations. Those who are operating in today's post-pandemic world will have to continue to capitalize on their talents and business savvy to thrive under pressure, in a still-evolving, always-tough environment.
Let's explore how you can use your specific leadership qualities to strengthen, protect and grow your business today and for the future. Let's also discuss how you can look to a trusted banking partner to drive your business objectives forward and shine — like a diamond.
3 Leadership Skills to Propel Your Business, and How a Banking Partner Can Help
1. Create, promote and adjust (when necessary) a compelling vision for your business.
Business leaders know that a strong vision reduces uncertainty, provides a focal point and, ultimately, inspires others. Given the challenges of the last two years, perhaps it's time to update your vision for your business.
Think about these questions: Have your priorities shifted? Do you need to create new business objectives? Are there new ways to increase customer and employee loyalty?
Many businesses, for example, are using this time to update technology to be more agile in a world that's increasingly digital-centric. Prioritizing spending on these types of upgrades can lead to more efficient workflows, which leads to more satisfied employees, which leads to improved output and morale. Innovating can also make your business more customer-centric by giving the people you serve easier access to your products and services. Ultimately, updated technology can help you drive healthy business growth.
How your banking partner can help: Investing in upgrades, whether they're technological or other operational enhancements, may involve significant up-front expenses, but it can make you more profitable in the long-term.
A business loan could be the right financing solution for you, but as you already know, interest rates are increasing as the federal government tries to curb inflation. It can be a tricky time to navigate the borrowing process, but don't let that stop you from working toward fulfilling your company's vision.
Business loans are available in different amounts, with a variety of repayment options. This is where it's important to establish a relationship with a banking partner — a commercial lender who knows you and your business. He or she can help you weigh the cost of your investment against its potential revenue, then help you apply for the best business loan for your needs.
2. Make yourself part of the action to learn how you can boost your employees and your business.
Great business owners don't just lead, they join their employees as part of the team and work to develop relationships with them. A big part of that is ensuring your employees are armed with the resources and support they need to succeed and feel valued, especially in today's tight labor market.
Think about these questions: Has your business incurred unexpected expenses that have you worried about covering payroll for your employees? Are you worried about low inventories? Are your employees reporting that they're getting low on needed supplies?
Being able to make payroll is vitally important, of course, but you also want to guarantee that your employees have the supplies to do their jobs effectively and the inventory they need to keep your business running smoothly. When your employees are able to feel that their jobs are secure and that they're successfully working to fulfill that compelling vision of yours, your business will flourish.
How your banking partner can help: Sometimes you need short-term funding to help your employees and your business thrive. Working with a local lender, you can get access to a business line of credit to pay for ongoing operating costs, cover gaps in cash flow, make payroll, increase your inventory or even take advantage of new business opportunities.
With a line of credit, you can use the funds as you need for your business (as long as you haven't met your limit). To make the most out of a business line of credit, work closely with your lender. He or she can help you look at areas where you're spending the most and possibly recommend additional banking solutions to help you better manage your costs.
3. Be aware of what's happening in your market, and make meaningful decisions.
Business owners and leaders have to know what is going on around them and adjust accordingly. For example, if the demand for your products or services is increasing, or there's demand in a location you don't serve, you recognize that and start to research ways to expand. Or, perhaps you need to improve your appeal to customers or provide your employees' with a more suitable workspace. That might mean moving to a new location or finding a larger office.
Think about these questions: Does the space you're operating in support growth? How much space will you need to operate successfully? Does an expansion support your vision for your business?
Moving or expanding your commercial space takes careful consideration, especially in today's commercial real estate market, where both costs and interest rates are rising. Identifying a need for real estate financing well in advance gives you time to explore funding sources and ensures that you make the best decision possible.
How your banking partner can help: The right commercial real estate loan can make all the difference as you grow your business. Communication is key.
A local lender can help you understand the complexities of the market and can walk you through the different types of loans that are available. They can ensure that the process is smooth from start to finish by detailing exactly what you'll need, from documentation, to financial history, to projected operating budgets.
Working with a community bank can be beneficial because community banks play a vital role in funding commercial construction and because they are knowledgeable about their communities. Community banking lenders are well-informed of the pricing trends, obstacles and requirements to get financing for the purchase or the construction of a new space.
A Final Thought
If you're a business owner, I would like to tell you how impressed I am by your ability to manage, protect and lead under pressure. It has taken a lot of hard work, dedication and skill to have gotten through these last few years. I know it feels like the challenges are never-ending, especially lately, but when you collaborate with partners who have your success in mind, you can be ready to face whatever lies ahead and move your business forward.
If you're ready to explore ways to grow in today's business environment, reach out. Our team works quickly and diligently to provide solutions that can help your business shine — just like a diamond.
---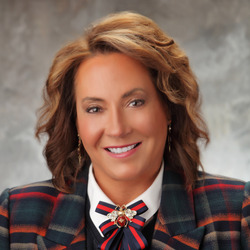 Kelly Crane-Hale is a senior vice president relationship manager at Bank of Utah's Orem branch. She has worked for the Bank since 2001 and was the 2018 Community Banker of the Year, an honor bestowed by the Utah Chapter of the CCIM Institute for certified commercial investment members. She is a graduate of the Pacific Coast Banking School and is skilled in negotiation, SBA 504 loans, cash flow, construction loans and commercial lending.