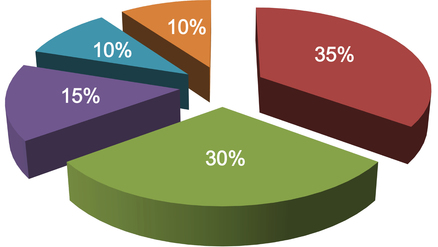 The five common factors that determine a credit score are listed below, in order of importance.
PAYMENT HISTORY (35%)
Paying debt on time (and in full) has the greatest positive impact on your credit score. Late payments, judgements, and charge-offs have a negative impact.
OUTSTANDING BALANCES (30%)
This is a ratio that determines the difference between the outstanding balance and the available credit. Experts agree to keep your balance at no more than 30 percent of your total limit.
Don't "max out" or even get close to your credit limit.
CREDIT HISTORY (15%)
Credit scores are based on experience over time; the longer you've had an established credit line, the better.
Keep credit lines open as long as reasonably feasible.
TYPES OF CREDIT (10%)
A mix of mortgages, debit and credit cards, and auto loans is more beneficial than having many accounts in one type of credit.
Apply for a CD secure, savings secure, or other line of credit to increase your credit diversity.
INQUIRIES (10%)
Recent credit activity is an indicator of your dependency on credit. If there are multiple inquiries over a short timeframe, it will negatively impact your score.
Only apply for credit that you need.