OGDEN, Utah, June 27, 2023 – Although he had bigger aspirations for a photography career, Taylor Dalton considered himself a photo hobbyist when he decided to enter Bank of Utah's My Utah photo contest in 2020. Some friends sent him information on the contest and suggested he enter since they knew his love for snapping photos. "I thought it was a cool idea and Utah has so many backdrops," he said.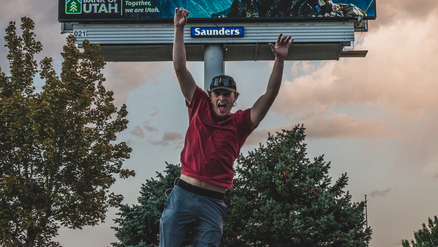 The idea of winning the contest felt great to Taylor from the beginning. He loved the thought of having his photo on a billboard if he was picked for the top prize. His captivating photo on Pfeifferhorn Peak was a sure winner and it resulted in more than just a $500 award – it helped catapult his career in the professional photography world. "It definitely helped in a way of giving me more photo opportunities, having work published anywhere is a great thing, but on a billboard, it is really great," he noted.
He now works as a professional photographer making professional videos, shooting outdoor shots, and designing social media projects. "It's a dream job," he said. He pays a lot of credit to the Bank of Utah My Utah Photo contest three years ago. "It was a great opportunity for me," he said.
2022 winner Jami Bollschweiler has also seen the benefits of the contest. "The contest was a great asset to my photography," Jami said. She loved the idea of being able to contribute something that celebrated the beauty of Utah. Plus, seeing her art on a billboard was something special. "I wanted to see my art on a billboard and that was a first for me," she added. She enjoyed the way the contest was run and working with the contest coordinator who kept her in the loop through the whole process. She also appreciated the uniqueness of the Bank of Utah contest. "It's unlike other contests here in Utah," she said.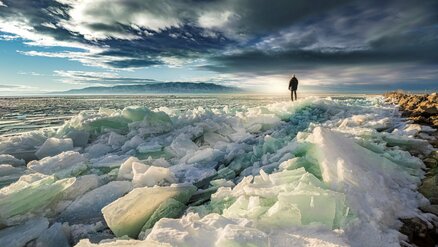 Bollschweiler started shooting photos after her mother's suicide in 2015. The hobby brings her much peace and healing. She viewed her photo (her husband standing on top of the ice stacks along the Utah Lake Shore) as a tribute to him for supporting her in her craft.
Our 2021 winner, Mattalyn Mason, cherishes her outdoor photos because they are her "happy place." She is an avid photographer and when she kept seeing Bank of Utah's My Utah photo contest pop up on her social media she finally decided, "Why not?"
She perused her thousands and thousands of outdoor photos and decided to enter the photo of her finishing a 20+ mile hike through Buckskin Gulch on her 1-year anniversary of beating cancer. "I knew that if I won, this is the photos that meant the world to me," she said.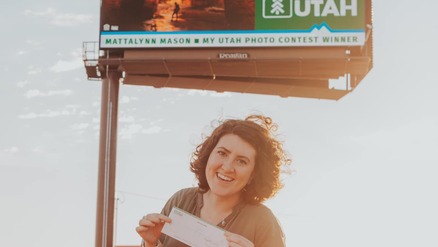 She has loved the compliments received about her photo. Family and friends took pictures with her billboard and sent them to her during the months it was up. She also had complete strangers reach out and compliment her work. "It felt really good to have my work recognized and to help encourage others that brighter days are ahead!" she said.
Winning the Bank of Utah contest has given her confidence to enter other photo contests. It has also helped her to put other work out there. Her photography business has been successful and she knows the additional exposure from the win really enhanced her success. "I have lots to be grateful for, and I can't wait to see what the future has in store for me," she added.
It's not too late to enter this year's photo contest!
Submissions are accepted through July 14: https://www.bankofutah.com/events/myutahcontest