There's no doubt about it, Utah is a desirable place to live! The state is world famous for its stunningly beautiful landscapes and the recreational opportunities to go with them. There are plenty of jobs for Utah's labor force, and the favorable business climate continues to attract new industries to the state. And, according to national economist and lecturer, Elliot F. Eisenberg Ph.D., who recently spoke at Bank of Utah's Economic Outlook Events, Utah has some unique economic advantages over other states.
Elliot told audiences in Logan, Ogden and Salt Lake that Utah's unemployment rate one of the lowest in the nation. And, since the recession, payroll growth has greatly exceeded the labor force growth of 2.5%, causing the unemployment rate to fall. However, he said personal income per capita around the state is stable, but is not keeping up with pre-recession wages which peaked in 2006.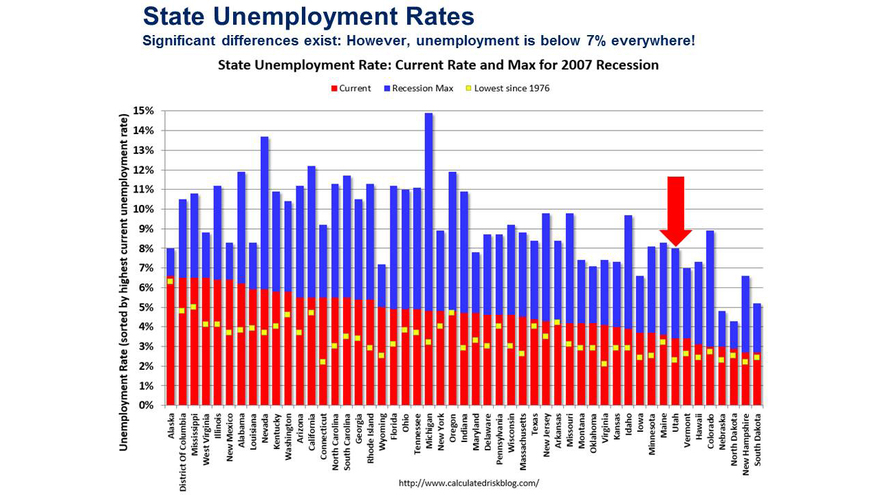 Nationally, Elliot said the economy is "good enough," with strong consumer confidence and household spending. He cited increasing sales of new light utility vehicles nationally and more visitations to Las Vegas as examples of people having and spending discretionary bucks. Speaking of dollars, the US dollar is getting stronger internationally, which is good for US tourists, but makes it difficult for the US to compete internationally with higher priced goods, and higher interest rates. Nationally, corporate profits grew rapidly in recent years, but have now stopped. On the plus side, manufacturing employment is climbing again.
While the rest of the nation is treading water economically, Utah is one of the nation's bright spots. In essence Elliot said business owners really need to reevaluate their business models if they aren't making money in Utah's economy.
Part of Utah's economic growth is related to the state's rising population growth. While the median age has risen across the U.S. as baby boomers retire, Utah's millennial population has taken over as the largest age group. This growing, young labor force is attractive to businesses looking to locate in Utah. However, Utah has the challenge of making sure that its students have the level of education needed in order to supply a qualified workforce. Right now, Eisenberg suggested that Utah businesses may need to recruit highly-educated workers from outside of the country.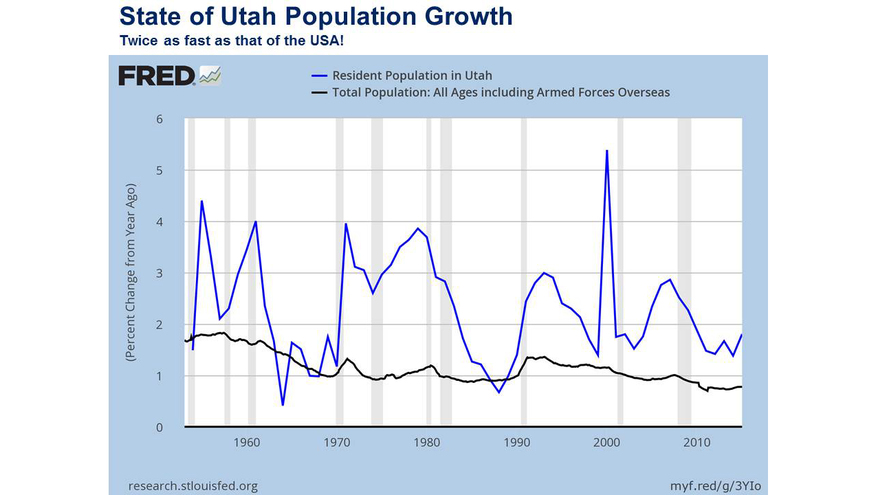 On the home front, between 2009 and 2014, Utah's family household size grew to 7.58 percent, while U.S. family households averaged only 2.5 percent. Utah's population and household growth continues to drive the economy, and particularly the housing market. Home construction in Utah has recovered for the most part. But with that increased demand, comes home price appreciation and limited inventory of existing homes, along the Wasatch Front in particular. Housing prices are now at or higher than pre-recession levels.
With low inventories of existing homes, some people are finding builders to create homes that better fits their needs, and are turning to Bank of Utah for financing on construction loans. Most people are surprised to find how little the down payment is to finance a construction loan. In 2015 Bank of Utah saw a strong increase in home construction and mortgage loans. But, despite the fact that home building is experiencing growth, Utahns have not returned to building new homes at pre-recession levels.
Bank of Utah was pleased to bring in Elliot Eisenberg to share his expert perspective on the international, national and local economy. His presentation boosted our own knowledge of the economy and was also appreciated by our good friends and customers who attended.