The Ogden-Weber Chamber of Commerce recognized longtime Ogden and Weber County supporters Douglas and Annette Larsen DeFries April 21 at its Annual Gala. The couple was inducted to the Wall of Fame — the chamber's highest honor — for demonstrating dedication to people and organizations in the community. Doug is president and CEO of Bank of Utah, and Annette is a community volunteer.
"Doug and Annette were selected by the executive board for their involvement with the chamber and for their commitment to the Ogden and Weber County community. Both Doug and Annette grew up on Utah farms, where they learned to value perseverance, teamwork and kindness toward neighbors. It shows in everything they do for Ogden and Weber County, from helping families and businesses achieve their financial dreams to volunteering with nonprofits that support children to boosting Weber State University and the arts. It is an honor to recognize them for all the work they do." – Chuck Leonhardt, Ogden-Weber Chamber president and CEO
A 1980 graduate of Utah State University, Doug has a 37-year history at Bank of Utah, where he started as controller in 1985 and became president and CEO in 2011. Bank of Utah is a community bank that has been an active participant in the growth and expansion of Utah for 70 years. In his roles there, Doug has helped families build financial security and has supported businesses through lending, funding and banking solutions.
Doug has been actively involved in the community over the years. He served on the board of the Ogden-Weber Chamber of Commerce for three years, and as chair of the board in 2007. He also worked closely with United Way of Northern Utah, serving on the board as both a member and as chair. In addition, he was on the Institutional Review Board for Intermountain Healthcare for five years.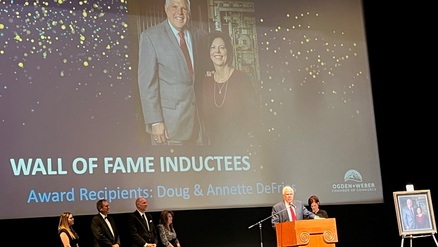 Within the financial industry, Doug served on the Community Bank Council of the American Bankers Association as the Utah representative for eight years. He also was on the Board of Trustees for the Utah Housing Corporation, serving as chair in 2016. He was appointed to the Money Management Council of the Utah State Treasurer and was chair for three years. Over the past 30 years, Doug has had multiple appointments to the board of Utah Bankers Association, including chair in 2018-19.
Annette believes success is measured through hard work, finding fulfillment in daily actions, and a connection to family, neighbors and community. She has spent her life demonstrating those values and devoting her time to helping people and organizations in Ogden and Weber County.
A 1981 graduate of Utah State University, Annette was secretary/treasurer for the Weber and Davis County Soil Conservation Districts, where she worked closely with community members, landowners and state agencies on projects to improve the state's natural resources.
Both a theatre and sports enthusiast, Annette knows that arts and sports bring communities together. She currently serves on the Ogden Musical Theatre board and has served on the board of the Weber State University Wildcat Club, providing expertise to the fundraising committee.
Annette is also a strong advocate for children and adult education. She has volunteered alongside others to care for local schoolchildren through Catholic Community Services' Bridging the Gap program, a mobile food pantry that provides Ogden families with food over the weekend, and she has organized food drives to make Pantry Packs for children. She also works with the organization on the St. Martha's Baby Project, which empowers mothers in need by providing them with newborn supplies. Most recently, both Annette and Doug served as a host family for Family Promise of Ogden, spending an evening in a local firehouse-turned-shelter for families in need. Annette has also spent time tutoring adults learning to read.
"Annette and I are honored to be inducted to the Ogden-Weber Wall of Fame," Doug said. "It's very humbling to see our photo on the wall beside so many great honorees, all of whom have made such tremendous efforts to help the Ogden and Weber County community flourish. We are fortunate to work and volunteer alongside people who value others and lift their communities up. Thank you to the chamber for this recognition, and thank you to all those who help this community and make an impact on people's lives every day." – Douglas L. DeFries, Bank of Utah president and CEO
Doug and Annette have been married 41 years. They have three children and five grandchildren.