Bank of Utah has provided $124,800 in grants to 12 nonprofit organizations across the state, thanks to a partnership with the Federal Home Loan Bank of Des Moines (FHLB Des Moines). As a result, Utahns in need will have access to more services and programs. Bank of Utah representatives spent much of July delivering awards of various amounts to community partners from Logan and Ogden to Price and St. George.
In early 2023, FHLB Des Moines announced the creation of the Member Impact Fund, a matching grant program member institutions can use to lift up communities in need of affordable housing and economic development. As a member of FHLB Des Moines, Bank of Utah submitted applications to the Member Impact Fund on behalf of 12 nonprofits that work to support local children, adults and families. All of the grant applications were awarded.
"This has been a rewarding project to be a part of this year. We are beyond delighted to help these local organizations that do so much to improve our communities. We look forward to partnering with the FHLB and these nonprofits for years to come." — Branden P Hansen, Bank of Utah President
A community bank, Bank of Utah values philanthropy and volunteerism. Each year, the bank donates financially to a number of community organizations and dedicates hundreds of service hours to various nonprofits, boards and events. To increase the amount of funding going to Utah communities in 2023, Bank of Utah representatives not only applied for Member Impact Funds but also shared the opportunity with other local financial institutions. Many of these banks and credit unions were also awarded grants.
"FHLB Des Moines is very pleased to partner with Bank of Utah through the Member Impact Fund. The fund enables our members to connect directly with local organizations who matter to them, creating value and lasting impact in their own communities," said Kris Williams, president and CEO of FHLB Des Moines.
Bank of Utah submitted and received matching funds for the following organizations, all of which work tirelessly to improve the quality of life for fellow Utahns.
English Language Center of Cache Valley
The English Language Center of Cache Valley provides critical support to refugees, teaching them to read, write and speak English, helping them learn basic job and technology skills, and connecting them to other educational opportunities. Bank of Utah has made financial contributions to the center for more than 10 years. The additional funding in 2023 will help the organization continue to staff and offer classes while offering services to an increasing number of refugees.
YCC Family Crisis Center
The YCC Family Crisis Center helps those experiencing domestic violence and sexual assault. The center has provided safety and advocacy services locally for over 77 years, offering a 24-hour emergency shelter, a 24-hour telephone crisis hotline, case management, permanent supportive housing, legal assistance, rapid re-housing and aftercare aid. A longtime supporter of the YCC, Bank of Utah has provided financial and volunteer commitments for many years. The additional funds will go toward new, secure housing for families in need.
SwitchPoint Community Resource Center
With a goal to end homelessness by addressing the underlying causes of poverty, SwitchPoint Community Resource Center offers unique opportunities to serve their clients, including a community garden with a state-of-the-art greenhouse, a food kitchen, 24/7 child care, thrift store, doggy day care and coffee company. Bank of Utah has assisted SwitchPoint in the past, connecting the center with resources to extend housing services as families start to become more self-reliant.
Davis Teen Resource Center
The Davis Teen Resource Center gives students in the Davis School District a safe place to shower, do laundry, study, receive one-on-one assistance from family service workers and access critical resources. Bank of Utah has provided financial contributions and volunteers to the teen center for the past three years. The additional funding from the Member Impact Fund will help build a new 16-bed facility in Layton that will provide safe, temporary housing for displaced students in the district.
William A. Burnard Warming Center
The William A. Burnard Warming Center provides safety, warmth and care for individuals and families without homes on the coldest nights of the year in Cache Valley, Utah. Guests have access to cots with blankets, water, coffee, snacks, necessities and information about or referrals to community resources. Operating from the fellowship hall of St. John's Episcopal Church, the center is 100 percent led and operated by volunteers. The additional funds from Bank of Utah will go toward hiring an executive director, who will work to increase organizational capacity and build financial stability through grant writing and other fundraising efforts.
EnableUtah
EnableUtah has been offering jobs, training and employment solutions to people with disabilities in Ogden since 1968.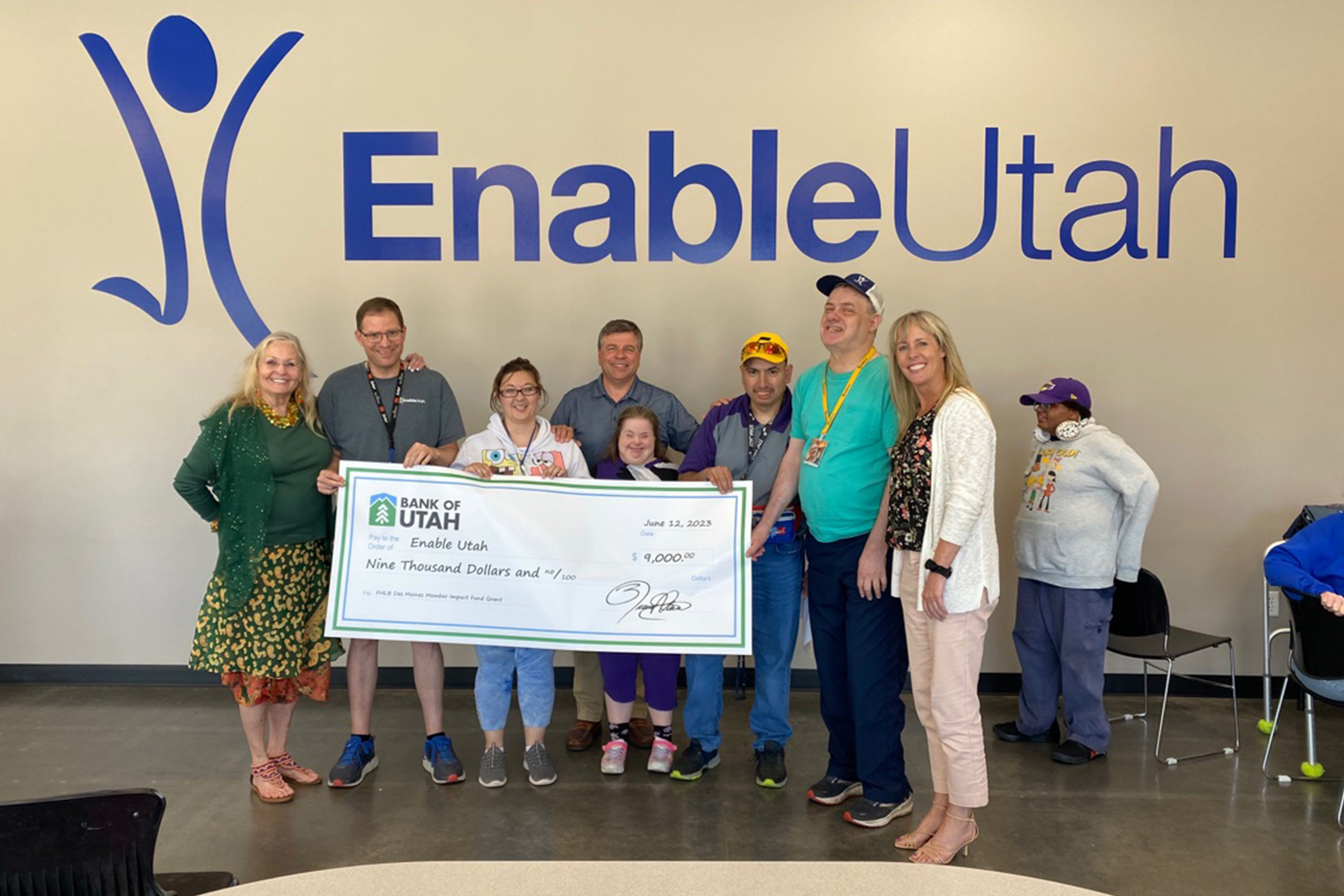 The organization serves 120 to 200 low-to-moderate income individuals each day. Bank of Utah has supported the organization's efforts through volunteerism and financial contributions.
The increased donation in 2023 will help with the costs of the organization's skills development curriculum, cover expenses related to job placement in the community and provide daily living skills to promote independent living.
Family Promise of Ogden
A shelter for families experiencing homelessness, Family Promise of Ogden not only provides a place to stay and nutritious meals, but the organization also teaches families the skills they need to be self-sufficient. Bank of Utah has been a supporter of Family Promise for many years. A representative from the bank serves on the board, and twice a year, bank employees volunteer for a week of service, spending an evening in a shelter for families in need. The funds from the grant program will support ongoing services and education to help individuals find permanent housing and become self-reliant.
NeighborWorks Mountain Country Home Solutions
NeighborWorks Mountain Country Home Solutions (MCHS) endeavors to help low-to-moderate income families be financially stable and become homeowners or keep their homes in quality, safe, affordable neighborhoods. Bank of Utah has enjoyed a five-year relationship with MCHS, supporting the organization with financial contributions and participating on committees. MCHS will use the additional funding to continue its affordable housing and counseling efforts.
Carbon County Family Support and Children's Justice Center
The Carbon County Family Support and Children's Justice Center is a child abuse prevention and treatment program that serves families in Carbon and Emery counties. Prevention services include parenting classes, home visits and family outreach. Treatment services include crisis childcare, child abuse investigative services, medical treatment and trauma therapy for children between the ages of 3 and 18 who suffer from child physical abuse, sexual abuse and neglect. Bank of Utah has been a longtime community partner, engaging in opportunities to support the organization's mission. The Member Impact Funds will go toward continued efforts to serve children and families in the community.
Catholic Community Services of Utah
Catholic Community Services of Utah (CCS) empowers people in need along the Wasatch Front to reach self-sufficiency,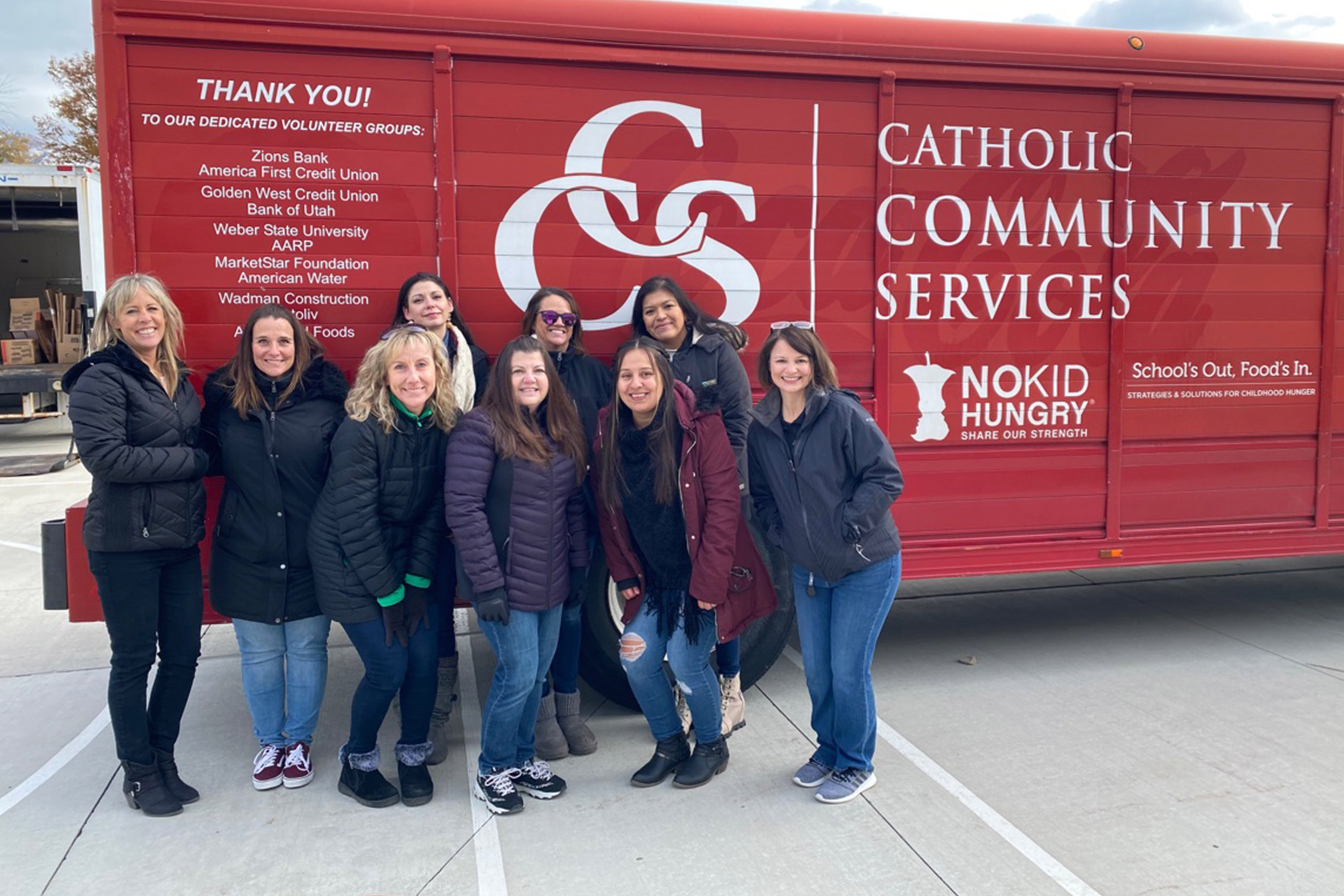 offering programs to alleviate hunger, to help those experiencing homelessness, and to assist refugees. Bank of Utah has been a long-time supporter of Catholic Community Services. Bank employees volunteer each month at a local elementary school to distribute food to low-income students. They also collect food and clothing items for the organization twice a year. The bank provides financial contributions, as well. The grant funds will help CCS upgrade its day shelter in Salt Lake City.

Prevent Child Abuse Utah
The mission of Prevent Child Abuse Utah is to forge and guide a community commitment to prevent child abuse in all forms through programs, services, public awareness, education, public policy development and partner collaboration. Bank of Utah has supported Prevent Child Abuse Utah for many years through financial and volunteer contributions. An executive officer of the bank serves on the organization's board. The additional funding will support programs in the schools to help students, parents and teachers recognize, resist and report abuse.
Youth Impact
Youth Impact is a nonprofit that provides activities, after-school programming and "a safe place to be a kid" for youth in Ogden and Weber County. Youth Impact has an average enrollment of 200, with daily attendance averaging 110. The majority of these youth come from challenging, at-risk circumstances. Bank of Utah has supported Youth Impact since the organization's inception in 1997. Two executive officers have served on the board, and the bank has been a significant contributor to Youth Impact's capital campaign to build a facility for educational programs. Money from the grant will support ongoing efforts to provide after-school programming and career-assistance to underserved youth to help them become productive citizens of local communities.
---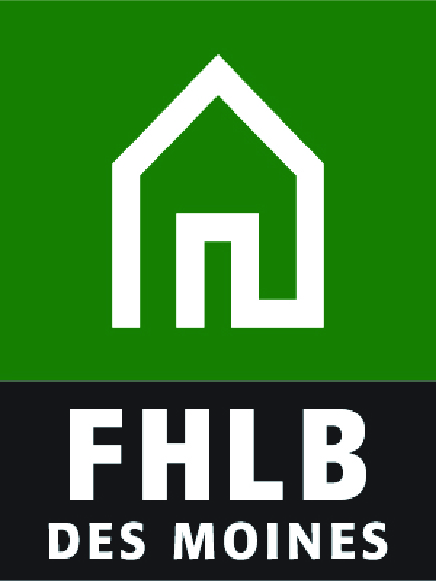 The Federal Home Loan Bank of Des Moines serves 13 states and three U.S. Pacific territories as a member-owned cooperative. Working together with over 1,200 member institutions, the FHLB supports affordable housing, economic development and community improvement.