OGDEN, Utah, July 27, 2022 – Bank of Utah's board of directors announced that Douglas L. DeFries will retire as CEO and president at the end of 2022, after a distinguished 37-year career with the bank. Company veteran Branden P. Hansen will replace DeFries as president, effective Jan. 1, 2023.
"We have benefited from Doug's leadership for many years. He worked diligently to continue Bank of Utah's 70-year tradition of caring for the community while also setting the stage for tremendous growth," said board chair Frank W. Browning. "We are confident that Branden, with his vast industry knowledge and deep commitment to customer and shareholder value, will effectively lead Bank of Utah into our next phase of growth."
In addition, the board appointed Benjamin F. Browning as CEO, also effective Jan. 1, 2023.
"Ben's background is deeply rooted in Bank of Utah, and he is passionate about building strong relationships, teams and workplace cultures," Frank Browning said. "We believe that, together, Branden and Ben, along with our dedicated employees, will continue to build Bank of Utah and enhance services and experiences for our customers."
Branden P. Hansen
Branden P. Hansen joined Bank of Utah in 1996. During his tenure, he has held a number of management positions, including senior vice president of residential lending and chief financial officer. He currently is executive vice president and chief business officer for the bank.
As president, Hansen will be responsible for setting the vision and strategy of the bank. In addition, he will oversee all aspects of the institution's operations and drive the bank's growth and business opportunities.
"Bank of Utah is an incredible company that serves an important role to Utah communities and businesses," Hansen said. "It's an honor to be selected to lead the bank, build on its heritage and further its success into the future. Throughout my career, I've learned that banking is really about people. I'm excited to be working with our customers and some of the best and most professional employees in the industry."
Committed to supporting the broader banking industry, Hansen serves as vice chair of Utah's Board of Bank Advisors. He is also involved in the community, where he is director and chair of the board for the Ogden Housing Authority and sits on the boards for the Weber School Foundation and Ogden Rotary Foundation. In addition, Hansen is a board member and treasurer for the Weber Roy Fremont High School Mountain Biking Club.
Hansen earned a bachelor's degree in business and finance in 1996 from Brigham Young University, and he graduated from the Pacific Coast Banking School. Hansen also earned a certificate in bank financial management, a nationally recognized distinction from the American Bankers Association.
Hansen and his wife, Deborah, have three children.
Benjamin F. Browning
Benjamin F. Browning began his career at Bank of Utah in 2007. To expand his knowledge of the banking industry, he has worked in a variety of positions in the retail banking, commercial lending and information technology departments. As vice chair of Bank of Utah's board of directors — a position he's held since 2019 — he helps represent the Browning family, which founded Bank of Utah in 1952.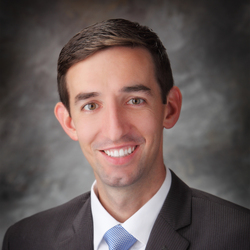 As CEO, Browning will focus on the company's culture, a critical component of a bank's operations, and he will work with Hansen to create strategic objectives for the bank. He will also support the bank's commitment to build strong local communities.
Browning is active in many industry and community organizations. He represents Utah banks on the American Bankers Association Emerging Leaders Council, and he serves as chair of the Utah Bankers Association Emerging Bank Leaders. He is a founding member and chair of the Society of Bank Executives. Browning currently serves on the boards for the Ogden School Foundation, the Hale Centre Theatre and the Pacific Coast Banking School.
Browning earned a bachelor's degree in business management from Brigham Young University in 2008 and an MBA from Utah State University in 2015. He also graduated from the Pacific Coast Banking School.
Browning and his wife, Katie, have three children.