Isn't it fun to live in a state with four distinct seasons? If you're like me, you associate certain activities with each – fall with pumpkin picking, winter with holiday decorating, spring with spring cleaning and summer with camping.
But I'd like to add another season, one that starts right after summer – when we've typically spent more money than usual on vacations and back-to-school shopping – and ends right before Thanksgiving – when we're gearing up to spend more money than usual on festive food and gifts. I would call it the "season of financial organization," because it's the perfect time to get your finances in order before the holiday rush.
Digital banking tools can help you make sure you, and your personal finances, are ready before the holiday season sneaks up on you.
If you're a business owner, you know the holidays can be especially hectic. A number of digital solutions are available to help make sure your business processes and services are also ready for one of the busiest times of the year.
4 Ways to Organize Your Personal Finances
1. Use online and mobile banking to review your finances.
You can look over your Bank of Utah accounts from your desktop, tablet or mobile phone, but did you know you can also link accounts from other financial institutions? It gives you one convenient place to see your complete financial picture.
You can also use the spending and trends tools within online banking to see where your money is going, and then use the budgeting tool to help you set goals and better manage your cash flow throughout the holiday season and the entire year!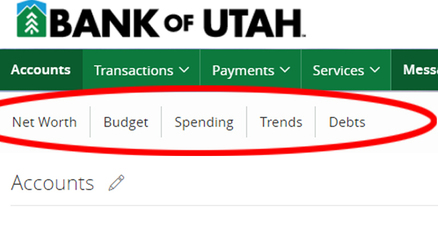 2. Take advantage of Bill Pay to control your monthly payments from a single location.
Located in online banking and the Bank of Utah mobile app, Bill Pay helps you manage your bills in one, convenient place, cutting out the hassle of writing checks, paying postage and visiting multiple biller websites. It's also a good place to keep track of due dates, so you can make sure you have enough funds in your account to cover your bills when they come due.
Having your bills outlined online will also help you decide when the best time financially will be to make those extra special holiday purchases, like gifts and sweets!
3. Make mobile check deposits.
Don't let checks sit. If you're busy with holiday activities, and can't get to the bank, make deposits anytime, anywhere, using the mobile app and the camera on your phone or device.
Doing so not only saves you time, it also ensures your accounts are balanced and ready for any outgoing payments you may have. If you need to add mobile check deposit to your Bank of Utah account, you can do so for free by calling 801-409-5000.
4. Use Zelle® to send and receive cash digitally and quickly from one bank account to another.
Found in online and mobile banking, Zelle is easily accessible and available to Bank of Utah customers.
Instead of writing a check or paying cash to a family member when pitching in for a holiday gift this year, simply transfer it right out of your account to their account. If someone needs to pay you for a gift, have them use Zelle to send the money directly to your account.
It helps you keep better track of what's coming and going, more so than writing a check or paying with cash.
4 Ways to Organize Your Business Finances
1. Look back.
Use online business banking to get an overview of your current finances, and then take a look at your history. Review your account statements from previous years' holiday seasons to see if you need to make adjustments in certain areas, like staffing or advertising expenses.
2. Simplify payments from and to your business.
To prepare for the holiday rush, streamline what you can now. Automated Clearing House (ACH) Credit allows you to pay your vendors, and your employees, electronically, bank account to bank account. You can create payees in online banking to make scheduling and tracking payments easier, which also makes viewing and managing your cash flow easier.
ACH Debit allows your business to collect, or pull, payments electronically, from another person's or institution's account, and helps you organize vendors and customers who make recurring payments to you.
3. Take advantage of remote deposit capture and mobile check deposit to ensure funds are getting into your account quickly.
If the holidays have you wishing for more time, get set up with remote deposit capture. Not only does it save you a trip to the bank by using a desktop scanner and online banking to make deposits, it also helps you keep your accounts healthy, with funds reaching the bank in a timely manner.
If your business deposits 50 or fewer checks a month, you can also take advantage of mobile check deposit from your Bank of Utah mobile app. If you need to add mobile check deposit to your Bank of Utah account, you can do so for free by calling 801-409-5000.
4. Get signed up for merchant services through Bank of Utah.
As you prepare for this holiday season, and the unique challenges COVID-19 will present, be sure to think about your payment processing system.
Set your business up with our merchant services solutions, which allow you to accept debit and credit card payments, mobile payments like Apple Pay, Google Pay and Samsung Pay, and/or online and telephone payments. We have options that fit the unique needs of your customers this year, as well as your business' needs, with no leasing or contracts.
More Organization = Less Stress
Not only does being organized increase your efficiency, it also helps you keep a healthy stress level. So, in this "season of financial organization," please reach out to one of our branches if you'd like our assistance in managing your personal or business finances. We can work together to make sure the hustle and bustle ahead is merry and bright, not hectic and stressful.
---
Sarah Carver is branch manager for Bank of Utah's Ben Lomond branch. She started her career at Bank of Utah over seven years ago and has worked as a customer service representative, account manager and branch manager. She recently volunteered with Family Promise of Ogden to begin teaching financial assistance classes to families experiencing homelessness. In her spare time Sarah enjoys cooking and spending time with family.