The wallet has been found! Thank you to all who participated. We are currently getting our winner squared away and determining which charity is going to get the other half of the $20,000 prize. We will update you on that as soon as we are able. In the meantime, we know you have been waiting anxiously for the meaning of the clues so here they are:
Clue 1: Find the wallet! Decipher the clues, then head off in a dash — the first one to find it will be rewarded with cash! Now, follow the trappers and traders of old, only then will you find the wallet foretold. Look on a map for a bird's eye view, spotting the wallet will make a Goodyear for you!
Since this cash quest was Utah-wide, this clue was meant to get you to Weber County and Ogden.

- Bird's eye view = Weber County on a map looks like a bird with a plume on the back of its head.

- Goodyear = Miles Goodyear settled Ogden.

- Trappers and traders = Miles Goodyear was a trapper/trader.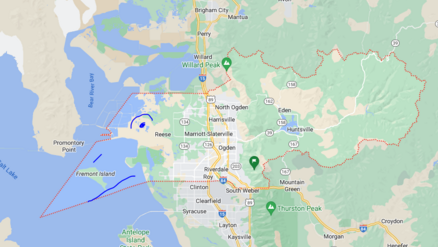 Clue 2: Does your quest have you going here to there and beyond? Hint: Your reward is tucked safely between two rivers, but not at its pond.
This clue was narrowing where in Ogden the wallet could be found.

- Two rivers = Ogden and Weber River.

- Not at its pond = This indicates the wallet location shares a name with a pond but is not actually at the pond itself.
Clue 3: At this junction, we hope your quest is picking up steam —that on your escursione you're having some fun around this oldest Utah city's streams.
To ensure people were searching in Ogden, this clue was to help reinforce that people were looking in the right spot.

- Junction = Reinforcing Ogden by referencing The Junction in Ogden. Junction City is also a nickname for Ogden.

- Steam = Reinforcing Ogden with the railroad reference since Ogden was a major railroad hub given its proximity to the Golden Spike.

- Escursione = Is "excursion" in Italian. This hints that the trail location ties into an Italian name.

- Oldest Utah City = Again reinforces Ogden based on the settlement at Fort Buenaventura.
Clue 4: 1847 was a great year in the West, but "46" might be more interesting to you on your quest. If finding our wallet has you quite rattled, just know on your journey you won't need to be saddled.
- West and great = Referencing the Great Western Trail
- 46 = 4600 South in Ogden, which is the main road to the Beus Canyon trailhead.
- Saddled = This was saying you won't need to go all the way up to the saddle of the trail to find the wallet.
Bonus Clue - Posted to Social 8/29

Beus Canyon Trail is named for Michael Beus and his wife Marianne Combe Beus. There is a plaque at the trailhead with their photos. Marianne and Michael were originally from Italy.
Clue 5: Two bridges, seven crossings at the least will you meet, and off the path will you go a mere four to five feet. The overgrowth you find may cause some travail, but know you won't need to forge your own trail.
This clue was to help answer some of the questions that popped up on social media. It was to inform people they would not need to go too far off-trail to find the wallet. And to explain that moving through the overgrowth was not considered "bushwhacking". It was also helping people know to go past Fern Valley.
Clue 6: V is for victory, you've made it, home base, now out to the people and skyline you'll face. See the Hill through a tree, then look down to your left, look for the wallet within the rock's cleft.
This clue was posted after the wallet was found just for fun to see if anyone else could solve it before we revealed the location. About 2.6 miles up the trail there is a beautiful Mountain Mahogany tree and this is where the treasure was hidden.

- "V is for victory" and "See the Hill through the tree" = refer to the V notch in the tree, through which you can see Hill Air Force Base when you are facing out toward the valley.

- "Look for the wallet within the rock's cleft = If you looked to your left there was a rock up against another rock. The wallet was hidden in the gap between them.
Be sure to follow us on social media for other events, community opportunities and future cash quests!