Bank of Utah, along with Red Hanger, Arctic Circle, Smith's, Young Automotive and YESCO, has joined forces with Boy Scouts of America Crossroads of the West Council to kick off the 36th annual Scouting for Food Drive in Utah.
This partnership is an effort to help the scouts collect as much food as possible to help struggling families. You are invited to join us in collecting and dropping off nonperishable food at community donation sites, including all Bank of Utah, Red Hanger, Arctic Circle, and Young Automotive locations. The food items will then be delivered to food pantries and food banks across the state.
The drive runs from Feb. 11 to Mar. 3. You can also participate in Scouting for Food Day, Feb. 11, when scout troops will gather at more than 50 Utah Smith's grocery stores to ask for and collect food donations.
Find Collection & Drop-Off Sites
If you would love to contribute but don't have time to drop off food, please consider donating to our online fund.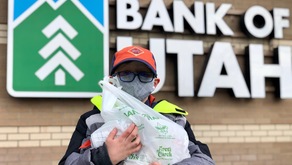 Suggested Nonperishable Food Items
Canned fruits and vegetables
Canned beef stew
Canned chili
Canned meats
Peanut butter
Boxed meals
Our goal is to distribute and collect more than 100,000 bags of food in communities throughout Utah.
Please join us. Every bag counts!
For more information and a list of donation sites, visit the Scouting for Food website.