It's time for our 9th annual Warm Bodies Warm Souls Clothing Drive. Join us from October 18 to November 12 to collect as much warm clothing as we can for 13 different charitable institutions. Visit any participating Red Hanger, Arctic Circle, or Bank of Utah locations throughout the state to drop off your clothing donations. Then receive a free double cheeseburger or free T-Shirt voucher to redeem at Arctic Circle and Red hanger!
Charities are looking for the following gently used items: coats, hats, scarves, gloves, and blankets. They are also looking for new underwear donations as well.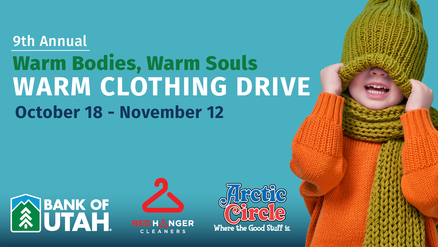 Provide A Cash Donation
If you're not ready to part with your apparel just yet, you can donate to our charitable fund. These cash donations will be distributed evenly to all 13 charities involved. Every cent is greatly appreciated as these non-profits gear up for the winter months. Thank you!