OGDEN, Utah, October 18, 2023 – Larry Gelwix, widely recognized as the "Winningest Coach in America", recently shared his playbook of successful leadership with Bank of Utah employees and guests. His captivating presentations, delivered during the bank's 2023 Fall Author Events in Logan, Ogden, Salt Lake City and Utah County, ignited inspiration in attendees. Gelwix encouraged audience members to push beyond what they thought they could achieve, using strategies he has shared with some of the best sports teams in America.
Gelwix dedicated 36 years of his life as the volunteer head rugby coach for Highland High School in Salt Lake City. In that time, he recorded 419 wins, 20 national championship titles and only 10 losses. His inspirational journey with Highland High was depicted in the movie "Forever Strong", cementing his legacy as a coaching legend.
"When they contacted me and told me they wanted to do 'Forever Strong' based on my coaching I thought I was being Punk'd," Gelwix joked. He said the movie closely mirrored his coaching experience, with a touch of "Hollywood magic", of course, but that he was ultimately impressed by how well the movie portrayed his story.
Staying at the Top of Your Game
Gelwix posed a question to his audience: "How do you stay at the top of your game?" Noting his win-loss record, which equated to about one loss every four years, he said it's a question he has been asked many times, and that the answer is, "Having a laser-like focus, work ethic and the ability to transition from good to great."
When Gelwix coached at Highland, their biggest rival was Skyline High School. His team would often break down the other team's strengths and weaknesses, but he knew a different truth: "The question is never about the other team, it's about us. I never wanted my players to think they could do just enough to get by, just enough to win. I wanted them to learn that we don't get through life doing the bare minimum."
Adopting Five Championship Strategies
Gelwix shared five championship strategies that can apply to every person, no matter where they are in life.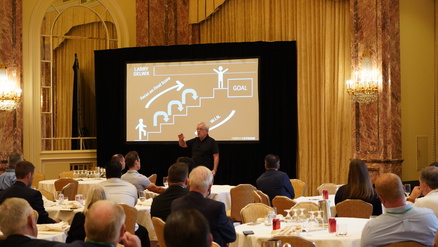 We…not me, emphasizing the importance of teamwork
Don't play with snakes, encouraging people to let go of things that will hurt them
Attitude and effort, exercising the muscle of resilience
Expect to W.I.N., concentrating on "what's important now"
Focus on the final score, getting your team, your company and/or your family to the finish line, step by step
Gelwix recounted a visit from a former athlete who had gone on to graduate from Harvard. The two struck up a conversation about business and marketing, and spent some time going back over Gelwix's five strategies from their rugby days. The student listened, went on his way and later told Gelwix, "I learned more from you than anything I ever learned at Harvard." While Gelwix modestly disagreed, he affirmed that the championship strategies undeniably work.
Harnessing Resilience and Attitude
Regarding resilience, Gelwix defined it as "harnessing every outcome as fuel for future opportunities, whether in victory or defeat". He reiterated that attitude and effort outshine raw intelligence and talent every time. He stated that one of the most important keys to success is to know change has to occur for growth to happen. "Change behavior first and then we will see our attitude change," Gelwix instructed audience members, also reminding them that setting achievable goals is critical.
"Play on your toes, not on your heels, and remember, the most influential players are rarely the Heisman Trophy winners." — Larry Gelwix, "Winningest Coach in America"
As far as attitude, he commented that the pain of hard work is always better than the pain of regret. "The pain of hard work is temporary, but the pain of regret never goes away," he said.
Embracing the Challenge
Gelwix concluded his presentation as he began it, by posing a question: "What are you going to do today that will get you where you want to be tomorrow?" His parting words left the audience with a renewed sense of purpose, ready to embark on their own journeys toward personal and professional excellence.