Bank of Utah recently teamed up with the Boy Scouts of America (BSA) and other agencies for Utah's 36th Annual Scouting for Food Drive, Jan. 31-Feb. 18. The final tally is in: Generous Utahns donated an estimated 98,312 pounds of food to help feed hungry families across the state. This food drive comes at a critical time when supplies at food banks and pantries need replenishing following the holiday season.
Four hundred BSA Cub Scout Packs, Scouts BSA troops and Venturing Crews, 26 community food pantries and food banks, 37 Arctic Circle Restaurants, 20 Bank of Utah locations, 13 Red Hanger locations and 20 Young Automotive locations distributed 100,000 Scouting for Food bags in communities throughout Utah. Bank of Utah, Red Hanger Cleaners, Arctic Circle and Young Automotive locations served as donation sites throughout the food drive, and more than 50 local Smith's Food & Drug stores allowed Scouts to collect donations from shoppers on Scouting for Food Day, Saturday, Feb. 12.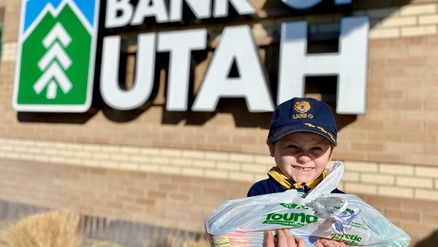 "People opened up their hearts and donated bags, cases and even pallets full of nutritious food," said Scout Executive Allen Endicott of the BSA Crossroads of The West Council. "The Boy Scouts are very appreciative for all of the support from the public and from our partners.
"Thank you to Bank of Utah for underwriting the costs of printing the food bags, designing the posters and flyers, and creating awareness about Scouting for Food. Thank you to Arctic Circle and Red Hanger for offering coupons to those who donated. Thank you to Young Automotive for publicizing the food drive and accepting donations. Thank you to the Utah National Guard, Red Hanger and our Scouts for picking up and delivering the donations. Because of this tremendous support, our local food pantries will be better prepared to help provide food for families and kids who turn to them in time of need."
Douglas L. DeFries, president and CEO of Bank of Utah, expressed his gratitude for the customers, Bank of Utah employees and community partners who participated in this year's Scouting for Food event.
"Your generosity, support and caring spirit are what makes the Utah community such a great place," DeFries said. "This event is a wonderful of example of how, together, we can make a difference. Bank of Utah stands firm in our commitment to supporting local food banks and pantries in their mission to always have food available for our neighbors in need."