How do you like to vacation? If you're anything like me, you love a great trip, no matter where you go! Whether traveling to a favorite site or new, exciting places, every trip feels like an adventure. While the COVID-19 pandemic put a stop to most leisure travel this spring, our state and country are starting to open back up. That means we'll soon be able to do more than just daydream about leaving the confines of our homes – we'll be able to visit beautiful places that lift our spirits!
As you start to think about your vacation – where to go, how to get there, what sights to see, what to pack – I encourage you to also think about how to protect your money, your health and your safety while you're away. After all, the more you plan ahead, the more you can enjoy a fun, carefree trip!
The following is a list of best practices I use to ensure I have safe access to my money while I'm vacationing.
12 Tips to Keep Your Money Safe While Traveling
Turn on email and text alerts for any credit cards you'll be using and for your checking account before you leave. That way, you can verify transactions the moment they hit your account. CardValet lets you manage these alerts on your phone.

Call your bank and credit card company to let them know you're going out of state or country and to make sure your credit/debit cards will work where you're going. This will also help the bank and credit card company get in touch with you if necessary.

Use the "Multi-Stash Method" for cash. I like to take a bit of cash on vacation to use for small purchases and for those "just-in-case" situations. I leave a limited amount of cash in my wallet and hide the rest between my carry-on and suitcase, so it's not all in one place.

Clean out your wallet, removing any credit cards, health savings account debit cards and reward cards you won't be using, just in case your wallet gets lost or stolen. I recommend taking a debit card for ATM-use-only and two credit cards: one for regular use and one for backup (just in case the other one doesn't work). I usually travel with my wife, and she will do the same, using different cards for backup.

Keep note of your card account numbers and customer service contacts, so if a card gets lost or stolen, you can quickly cancel it. It's hard to report a stolen card if you don't have that information.

Use a money belt to reduce the risk of theft. I know it may seem tacky, but whether you have cash or credit cards, there is no safer place for the funds than on your body. A money belt is the perfect place for credit cards, cash, your passport and driver's license. I suggest putting the money belt on first, then getting dressed over it, so it's out of sight.

Protect your electronic devices with passwords. Losing or having your phone or laptop stolen can give someone access to your financial apps and other personal information. To ensure your safety, password-protect each device to keep your information safe, and program devices to auto-lock after a minute or two of inactivity.

Avoid using secluded ATMs. Opt for one in your hotel or in a busy area instead, and don't use an ATM at night or in the early morning. As a Bank of Utah customer, you can find convenient and free ATMs anywhere in the U.S. Look under Locations within our mobile app or check out our MoneyPass "Find an ATM" locator.

Store your extra cash and valuables in your hotel room safe, if available.

Watch out for crowds. Thieves are drawn to large groups of people. Keep close tabs on all your possessions, and don't get too distracted.

Be organized. Having to sift through your cash and cards during a purchase allows people to see everything you're carrying, which can entice a thief to act.

Buy foreign currency before you travel abroad, just in case you have immediate expenses like taxis or tips. You can also sell your foreign currency back upon your return to the U.S. Visit or call a Bank of Utah branch to set up this service.
A Word or Two About Health, Safety and Vacationing
I'm not an expert on the spread of COVID-19, but I do know that wearing a mask in public, washing your hands, and using hand sanitizer and wipes are recommended by the Centers for Disease Control and Prevention. Established travel organizations, like AAA and AARP, offer excellent information about travel safety. A recent article by AARP says:
Hotels are also rethinking their approach to sanitization and social distancing in light of the outbreak: Hilton, Hyatt and Airbnb have announced ramped-up cleaning and safety standards to be rolled out in the weeks and months to come, like the use of hospital-grade disinfectants and contactless guest check-in procedures.
The American Hotel & Lodging Association, an industry group, has also developed guidelines that outline stringent cleaning procedures for everything from elevator buttons to exercise equipment.
Still, echoing advice from the Centers for Disease Control and Prevention, McKoy (June McKoy, associate professor of medicine at Northwestern Medicine) recommends using your own sanitizing supplies on "high-touch" surfaces in your room. This includes wiping down exterior and interior doorknobs and handles; the TV remote and bathroom fixtures; and any surfaces on which you'll rest your belongings, like tabletops or the area around the bathroom sink.
Make your travel plans when it feels right for you and your family, use these monetary tips to protect your money, and then relax and enjoy yourself! If you follow my advice, you'll be good to go knowing you've taken the necessary precautions.
---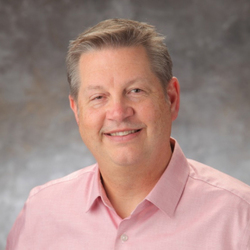 Dave Kuhni is Branch Manager at the Lindon Branch. He has worked at Bank of Utah for the past 17 months and has more than 33 years of banking experience.