Not very long ago, people were ashamed to admit they met someone online. Today, however, millions of Americans use dating apps to meet that "special someone." Many who look for love online find it. Unfortunately, others meet con artists who are online not to steal hearts, but to steal money – all in the name of romance.
Just last year, consumers lost millions of dollars to these affection-pretending tricksters through what the FBI calls "romance scams."
For me, Wikipedia defines "romance scam" best, as a "confidence trick involving feigning romantic intentions toward a victim, gaining their affection, and then using that goodwill to commit fraud. Fraudulent acts may involve access to the victim's money, bank accounts, credit cards, passports, email accounts, or national identification numbers, or forcing the victims to commit financial fraud on their behalf. In many instances, a mail order bride scam will also bait the victim into committing felonies to establish citizenships for the perpetrator."
Sadly, these scams are on the rise, as more people seek digital connections during times of loneliness and isolation. Know the red flags and how to protect yourself.
How Romance Scams Work
The scam begins with the fraudster creating a fake online profile using someone else's identity and photo. The swindler wants to seem like an average, everyday person so you become comfortable with them.
The fraudster's intention is to establish a relationship with you, gain your trust and make you fall in love quickly. The swindler pretends to become smitten with you right away and then asks you to move your communication from the dating website to text or email, claiming it to be "more personal that way."
The swindler never lives in your city and often claims to be deployed with the military, working abroad as a doctor or working overseas on an oil rig.
Over weeks, months and even years, the fraudster works to gain your trust, sending you special gifts and planning to meet you in person. Those meetings never happen; something always comes up.
Once the relationship has been established and your defenses are down, the swindler starts to hint about needing assistance and may even directly ask you to send money, almost always promising to pay you back. Usually the money is "needed" for an emergency, to pay hospital bills, pay off gambling debts or even buy a plane ticket to visit you.
The fraudster will continue to ask you for more money until you finally realize you are being taken advantage of or scammed.
Warning Signs of a Romance Scam
Be cautious if you:
• Spot fake profile photos that don't appear to have been taken with a normal camera
• Notice someone asking you to move your communication from the dating website to text or email
• Seem to have quickly captivated someone's full and constant attention
• Are asked to wire money or send money through Western Union
• Are asked to set up a new bank account or give out your current account information
• Notice very bad grammar and spelling mistakes
• Are told sob stories
• Hear a playbook of excuses
• Are always denied in-person meetings or video calls, or if those are always canceled last minute
Suspect You've Been Victim to a Romance Scam?
Here's what to do:
• Stop communicating with the fraudster immediately, despite his or her attempts to lure you back in with promises of love and affection.
• Talk to your friends and family members to get their perspectives. Listen to what they tell you.
• Contact your bank right away, especially if you gave out your account information.
• Keep all communication records you had with the scammer. This may help the authorities locate the individual.
• Do an online search for stories similar to yours. Many people post about their experiences.
• Paste the fraudster's text or email messages into your search engine. See if any of the words are linked to websites that expose scams.
• Use Google's "search by image" on photos provided by your potential love interest. If the photos come back linked to different names, you're probably being scammed.
• Contact the dating website's representatives and let them know about the scam. They may be able to shut down the fake profile.
• Contact your local police.
• Report your complaint to the Federal Trade Commission.
If you suspect your accounts have been compromised, contact Bank of Utah. We can walk you through the steps you should take immediately, like getting a new account number or credit card or stopping payment on a check you've sent to the fraudster. We can also get you set up with CardValet – a free app for Bank of Utah customers that allows you to manage your credit or debit card usage right from your phone. With the app, you can monitor your card usage in real time, to make sure any transactions are yours, not a scammer's. You can even use it to restrict transactions to certain areas using GPS.
Remember, con artists are very good at what they do. It's easy to fall victim to their scams. Most people who do are embarrassed, and fraudsters know that many times their victims won't notify anyone of the scam for that reason. That's what makes romance scamming such a lucrative business: The swindlers get to remain anonymous and out of the reach of authorities, all while leaving their victims emotionally and financially devastated.
Just a final word of advice: If something doesn't feel right, it usually isn't. Notify the authorities immediately. Call us immediately. We are here to help you.
Resources: Wikipedia, AARP.org, Consumer.ftc.gov, CNN.com
---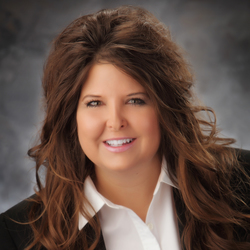 Kimberly O'Neal is Branch Manager at the Roy Branch. She has worked at Bank of Utah since 2017. Kim enjoys volunteering with Junior Achievement of Utah.