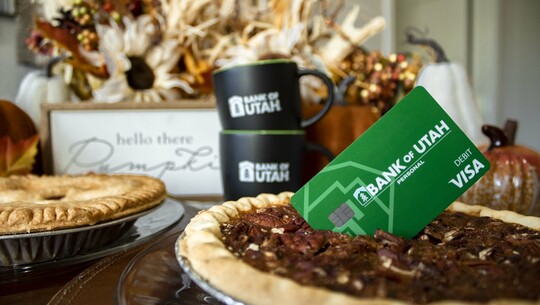 My Utah is a sweet fall treat and a
checking account that's 'Easy' as pie!
Fall is a busy — and often expensive — time of year.
You need an account that's simple and free to use!
With Easy Checking, you get banking that's 'Easy as Pie'
— full-service features with no monthly service charges!
Opening an account online takes 5 minutes or less. It's
the perfect choice for you — any way you slice it!
Benefits

Bank Simply and Fee Free
With no service charges and no monthly balance requirement — 100% free

Use Your Custom Debit Card
With multiple ways to pay, including access to Apple Pay, Google Pay and Samsung Pay for digital payments

Enjoy Peace of Mind
With our eStatement Promise, where your statements are saved digitally for seven years, even if you close your account

Protect Against Fraud
With Zero Liability debit and credit card protection, and fraud protection features within CardValet

Bank Anytime, Anywhere
With online and mobile banking, and Zelle®, a free, virtual way to send and receive cash
Get Cash or Make Deposits Conveniently
With branch ATMs, which accept deposits and withdrawals, or with free withdrawals at MoneyPass ATMs across the U.S.
Features
Open your account with as little as $100.
Don't worry about a minimum account balance – there isn't one.
Access your funds as often as you need, with unlimited deposits and withdrawals.
Attach one of three overdraft options to protect your account.
Get access to budgeting tools and spending trackers to help you manage your money — all within Bank of Utah's online banking and mobile app.
Opening an account is safe, easy, and can be done in as little as 5 minutes.
Here's a short glimpse of the process:
Provide your personal information; just a few basics – no documentation needed.
Make your initial deposit into the account. Using a combination of either an account number and routing number OR username and password from another institution, transfer funds easily within the digital application.
Read and agree to the disclosures associated with the account.
Order any extras that may come with the account, such as a debit card, checks or overdraft protection.
Check your email for confirmation or next steps.
When opening an account, you can be confident that our secure banking technology will protect you throughout the process. Learn more here.