Utah's commercial construction industry currently has a number of moving parts, from supply and demand issues, to rising construction costs and material shortages, to increasing interest rates. When one shifts, it pushes on the others and eventually triggers a chain reaction, much like dominoes. When these dominoes fall, however, it's not entertaining to watch — it deeply affects developers, investors and, ultimately, consumers.
To understand how these "dominoes" are shifting precariously today, it's important to first dive deeper into Utah's housing shortage.
Understanding Utah's Housing Shortage
In February 2022, Bank of Utah hosted Economic Forecast events across the state, featuring noted economist Natalie Gochnour, the associate dean of the University of Utah's David Eccles School of Business and director of the university's Kem C. Gardner Policy Institute. Gochnour explained that recent population growth has created strong demand in Utah. That, combined with a shortage in housing units that started in the 2010s and continued to accumulate over the years, created a current housing market that is approximately 45,000 units short of equilibrium.
How can that be, when more and more apartment complexes are being built across Utah? (In Salt Lake County, for example, an all-time record number of apartment units received building permits in 2021, according to the Gardner Policy Institute.) The answer to that question is: Builders are finding it difficult to keep up with the demand due to challenging issues beyond their control.
First, home builders are still reporting delays in getting the basic materials they need, such as lumber and steel, to complete their projects. This is due to the pandemic-related supply chain disruption. Second, the prices of those supplies have risen significantly. The National Home Builders Association recently reported that building materials costs increased 20.4 percent year-over-year and 31.3 percent since January 2020. Third, interest rates have risen along with the Federal Reserve raising the Fed Funds rate in March and May.
Understanding the Impact of Rising Rates
The increase in interest rates is a particularly hard hit, on top of the inflated costs of materials. To provide a basic example of how higher interest rates affect the financing of commercial real estate:
A developer comes in at the beginning of 2022 to finance the building of a $5 million apartment complex. The interest rate is 3.5 percent for one year. The developer is required to put 20 percent down, or $1 million, ultimately financing $4 million. With an interest rate of 3.5 percent, that 12-month project would cost $5,140,000.
Another developer comes in March to finance the same type of project, an apartment complex. Construction costs have risen by about 10 percent, so the project now costs $5,500,000. The developer is still required to put 20 percent down, or $1.1 million, ultimately financing $4,400,000. The interest rate has risen to 5 percent, so this one-year project would cost $5,720,000.
That's a difference of $580,000. With an increased interest rate (in addition to the increased construction costs), the second developer would need to charge a higher rent for the project to be a secure investment.
And the dominoes topple to the consumer. For example, rental rates in Salt Lake County increased by 10.1 percent in 2021, according to the Gardner Policy Institute. While an increase in the supply of housing units will help, the rising costs of construction materials and rising rates will still be a factor in higher rental prices.
Understanding the Lending Relationship
For now, commercial real estate projects continue on in Utah. At some point, the increased building costs and rising rates will most likely cause a reduction in projects, just not yet. For those seeking lending for commercial construction projects, it's important to build a relationship with a commercial lending professional. In doing so, borrowers can:
1. Ensure the project is structured prudently.
In today's elevated risk environment, it is important to make sure a project is well within the developer's financial capacity to see it through to completion. This may mean breaking the project into phases in order to limit the overall risk exposure.
2. Be one step ahead by having open lines of communication.
It's not unusual for a borrower to start discussing a project with a lender six to nine months before they apply for financing. It's wise to do because lending officers often see multiple deals from multiple borrowers and have a good understanding of the market. They can provide insight for borrowers and possibly recommend unique lending structures.
As the project moves forward, continue to communicate. Discuss issues that pop up, so everyone involved knows and understands what's happening — the good and the bad. The best customers are in constant contact with their lenders, whether they're actively borrowing or not.
3. Work with the lender to keep up to date on the project's costs.
One of the first questions lenders tend to ask is, "Do you have a current cost breakdown?" In the old days, borrowers could rely on cost breakdowns that were 9 to 10 months old because costs wouldn't move a lot. Now that's not the case. The breakdown will help both the developer and the lender ensure that the necessary funding is available to complete the project. If the costs begin to exceed the funding capacity, options will need to be discussed.
A Final Thought
This is a very challenging phase of the economic cycle for everyone. Costs are increasing in both the construction and the financing parts of the market. The Federal Reserve, for example, is expected to increase rates four to five more times in 2022 to combat inflation. It can be unnerving. As the dominoes continue to fall, stay knowledgeable and look to a trusted lender for the most up-to-date information.
---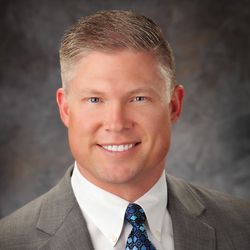 Brady Fosmark is a senior vice president and commercial team leader for Bank of Utah. Fosmark will become the bank's executive vice president, chief lending officer in September 2022, when the current chief lending officer retires.