MARCH 28, 2023 – Residents from across the state showed up for the Scouting for Food Drive this year, donating approximately 98,000 pounds of food across the state at drop-off sites. Those sites included in the drop-off were Bank of Utah branches, Arctic Circle locations, Smith's, Red Hanger Cleaners and Young Automotive and Powersports locations. The drive was held February 11 through March 3.
Utah Boy Scouts helped collect the food and deliver it to over 20 food banks across the state. This year, the drive was extremely important, as food pantry shelves have been getting lower and lower with a rising inflation, larger needs and people struggling to make ends meet.
1 in 5 children experience hunger daily in the United States. In the 37th year of Scouting for Food, Bank of Utah was happy to help make a difference. Between the many partners and the generosity of individuals and families along the Wasatch Front, simple donations of non-perishable food items like chili, soups, canned meats, canned fruits and vegetables along with boxed meals and peanut butter made a substantial difference in the lives of those who are going without.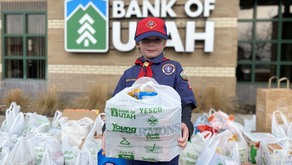 "This year we have been encouraged by the Utahns who stepped up to fill food pantry shelves across Utah," said Bank of Utah President Branden Hansen. "We are happy to be able to partner with great organizations to make this happen and look forward to next year as we continue to combat hunger in Utah," he added.
*For more information about Scouting for Food donation sites or to find a local food pantry, visit www.utahscouts.org/scoutingforfood. *