If you haven't already heard, debit and credit cards are introducing a new feature to your card: EMV technology. Simply put, your card has been updated with a new chip-enabled defense to help protect against financial fraud.
How does the change to an EMV chip card affect me?
From now on, when your card expires, or you request a new one, you will receive an EMV chip card. In addition to being able to swipe your card, with your Bank of Utah EMV chip card you are now able to make a purchase in two ways, inserting and swiping: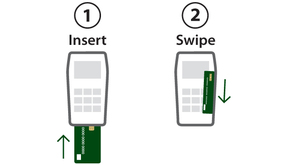 Here is how to use your EMV card:
Insert the chip end of your card into the transaction terminal with the chip facing up.
Keep your card in the terminal throughout the transaction.
When prompted, remove your card.
How does the EMV card provide additional protection?
Inserting your EMV card at a transaction terminal provides an additional layer of protection by creating a unique code for each transaction. Inserting EMV cards take a few seconds longer than swiping. Even though it takes longer, inserting your card provides an additional layer of protection. NOTE: while inserting your EMV card will provide additional security, you're still protected from unauthorized transactions when you swipe your card.
Here are other good practices to enhance your security:
Keep a record of account and telephone numbers for reporting lost or stolen cards. Report lost or stolen cards immediately by calling the 24-hour number: 1-800-554-8969.
Make sure you get your card back after making a purchase.
Memorize your PIN—never write it down or give it out to anyone. No one from a financial institution, law enforcement, or a merchant should ask for your PIN.
Treat your card like cash—don't leave it unattended in a car, desk, hotel or store.
Can I still personalize my debit card?
While everyone will receive the same standard Bank of Utah debit card, you will still have the opportunity to customize your card.
If your current card was customized using Bank of Utah's 'Customize Your Debit Card' online portal, your EMV card will arrive before your current card expires and will have the same customization.
If you selected a basic card design while in a branch, you will receive the standard Bank of Utah debit card and will need to use the portal to Customize Your Debit Card.
What does EMV stand for?
EMV is a global payment industry specification named for the organizations that jointly created it — Europay, MasterCard and Visa.
For other frequently asked questions about EMV cards, visit the VISA FAQ page.